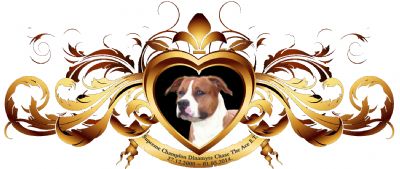 MBIS, MRBIS, RBISS SUPREME CH. DINAMYTE CHACE THE ACE E.T. ROH
"Kujo"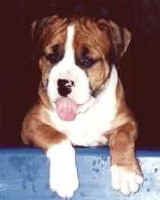 Kujo at 6 weeks old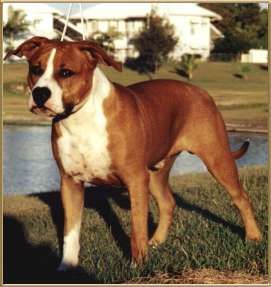 Kujo at 6 months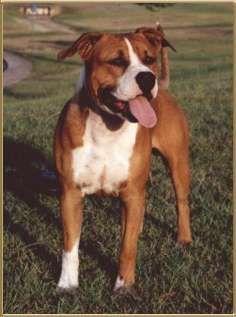 Kujo at 9 months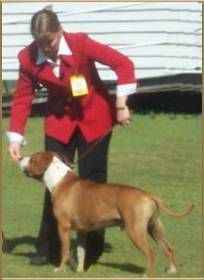 Kujo at 16 months old winning Runner Up to Best in Group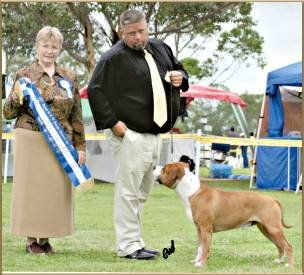 Runner Up to Best in Group NSW Spring Fair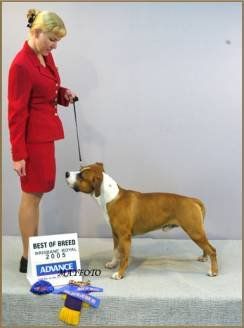 Kujo winning Best of Breed at the 2005 Royal Queensland Show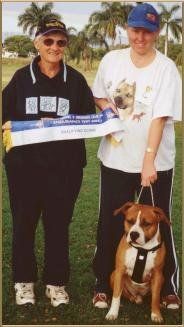 Kujo obtaining his Endurance Title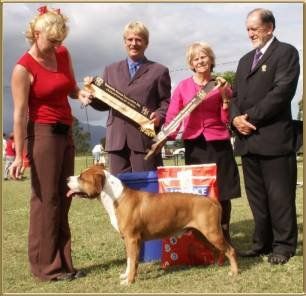 Kujo winning back to back Best in Show and Runner Up to Best in Show May 2005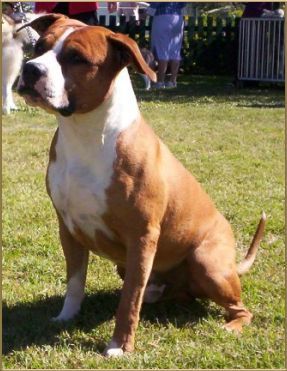 Kujo at 5 years old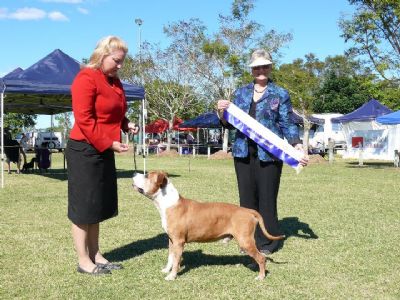 Kujo winning Best in Group at 10 1/2 years of age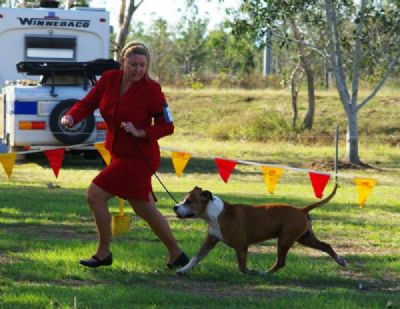 Kujo on the move at 10 1/2 years old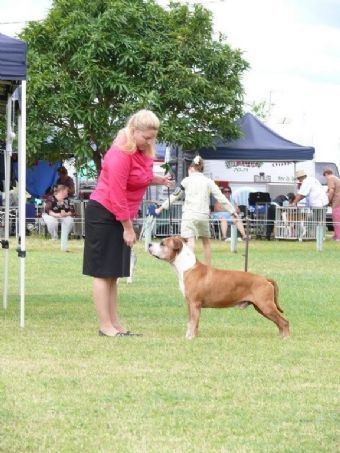 Winning Veteran in Show
KUJO WINS BEST IN GROUP TULLY KENNEL CLUB CH SHOW 07.05.11 AND BEST IN GROUP AGAIN AT CHARTERS TOWERS KENNEL CLUB CH SHOW 14.05.11 AT 10 1/2 YEARS OLD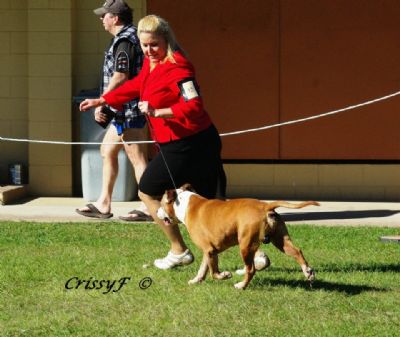 Kujo at 12 years old being awarded his Supreme Championship Title
Kujo is a very handsome red and white boy with a stong head, excellent pigmentation and an adorable personality. He is a multi Best in Show, multi Runner Up to Best in Show, Runner Up Best in Speciality Show Winner as well as multi Best in Group and Class in Show winner and at just over 2 years of age won his 1st Best in Show at an All Breeds Championship Show, also winning Reserve Best in Show the next day, giving him the honour of being Australia's first Amstaff to win a Best in Show at an All Breeds Championship Show. He has also qualified twice for the Dog of The Year Zone III Finals. Now at 10 years old he is retired from the show ring and enjoys romping around the yard with his mother, nephew, neice and daughter. He has proved himself as an outstanding sire with both children and grandchildren proving themselves in the ring. Kujo has been health tested for hips, elbows, eyes, heart, petalla and is ataxia clear.
***NEWSFLASH*** Kujo has now qualifed for the Role of Honor "ROH"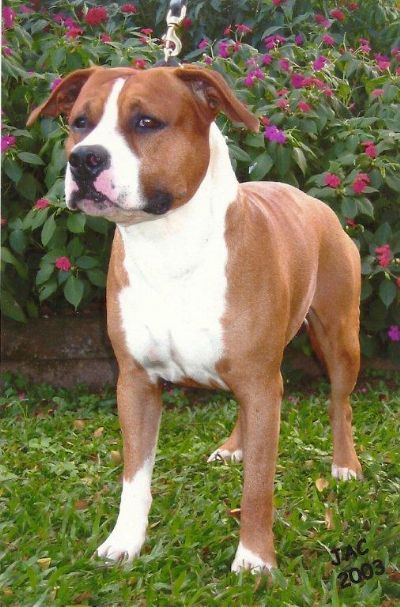 Its with a heavy heart that we say goodbye to our gorgeous boy Kujo. Kujo has not only done us proud in the show ring in his earlier days but has also made a huge impact on my breeding program. A wonderful ambassader of the breed in and out of the showring and my best friend of 13 1/2 years. We will miss you dearly our beautiful Kujee Boy. RIP Kujo xoxo
D.O.B -

s. Ch. Tsamstafs Red Rock

s. Ch. Mackamstafs Hawk

s. Ka Hanahous Seamist (Imp USA)

d. Mackamstafs Wayward

d. Ch. Bluesteel Diamond Mask (AI)

s. Am. Ch. Willynwood Redneck (USA)

d. Ch. Araganu Blue Diamond

d. Ch. Dinamyte China Rose CD ET

s. Ch. Bluesteel Lucifer (AI)

s. Am. Ch. Willynwood Redneck (USA)

d. Ch. Araganu Blue Diamond

d. Ch. Wharekuri Cochinnenako

s. Ch. Araganu Billys Boy

d. Mackamstafs Blue Moon
Contact Details
Jodie McKay
North Queensland, QLD, Australia
Phone : 0437 820 678
Email :
[email protected]