CH. AMSTARFX HEIDI HO E.T.
"Heidi"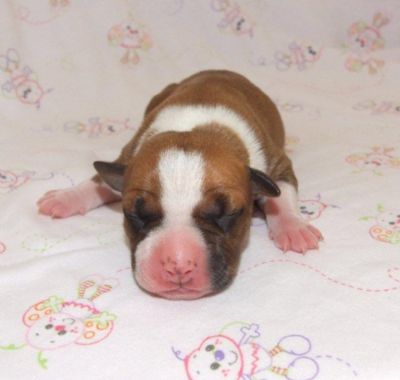 2 days old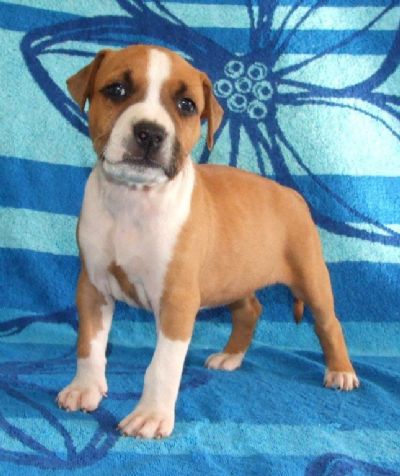 6 weeks old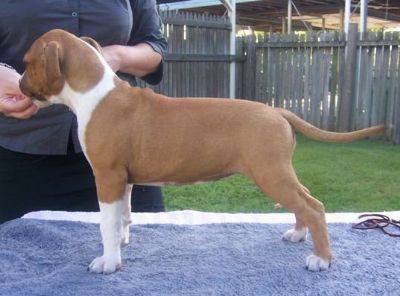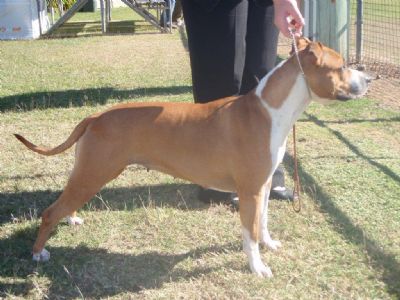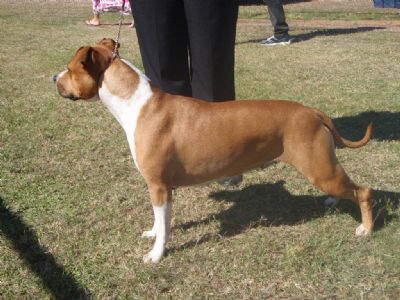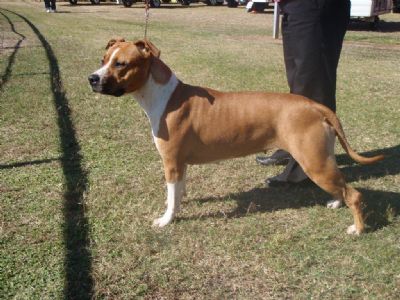 Heidi 19 months old
Heidi is our new kid on the block. A gorgeous mixture of both her mother, Ch. Zforce StarFX "Effie" and her father, our own home bred Grand Champion MBIS, MRBIS, RBISS Dinamyte Chace The Ace E.T. "Kujo". We have high hopes for this little lady and are very grateful to her breeders and our good friends, Kelly and Craig for allowing us to add this beautiful little girl into our family. Heidi is Australia's youngest Delta Therapy Amstaff visiting the Townsville General Hospital regularly.
Heidi is ataxia clear by parentage.
Hips R3:L3=6 total Elbows 0:0 Aust Grade 2 International Grade B1
Please see our litters page for the up and coming mating we have planned for Heidi

****HEIDI WINS BACK TO BACK PUPPY IN SHOWS AT TULLY & DISTRICT KENNEL CLUB 21ST & 22ND AUGUST 2010****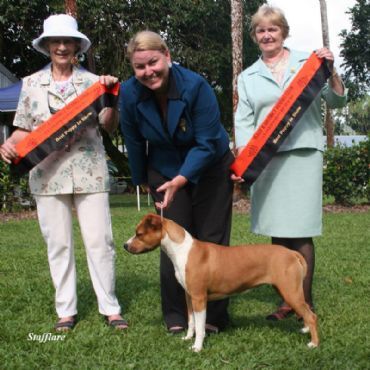 ***HEIDI WINS BEST OF BREED, RUNNER UP BEST IN GROUP AND JUNIOR IN SHOW AT PIONEER VALLEY KENNEL CLUB CH SHOW 9TH APRIL 2011 & JUNIOR IN SHOW AT THE TOWNSVILLE KENNEL CLUB CH SHOW 22ND APRIL 2011****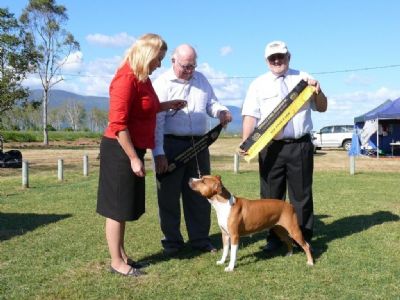 Visiting Medical 1 at Townsville General Hospital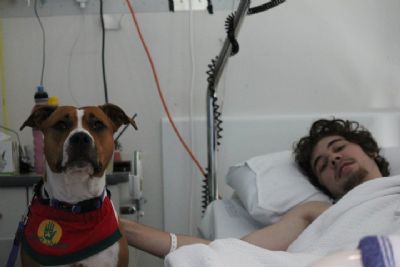 Visiting the Childrens Ward at Townsville General Hospital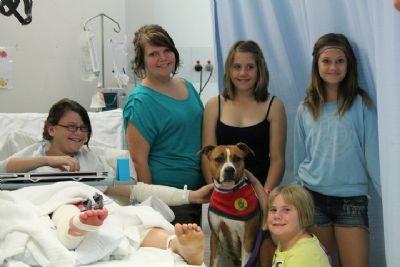 Heidi winning Opposite State Bred in Show at the 2011 Qld Amstaff Specialty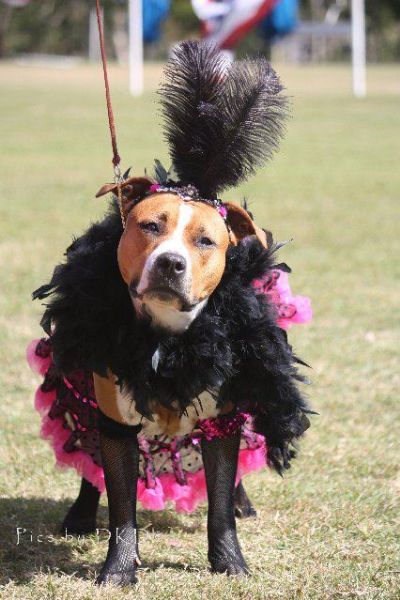 Heidi 1st Place Fancy dressed sweepstakes Qld speciality 2011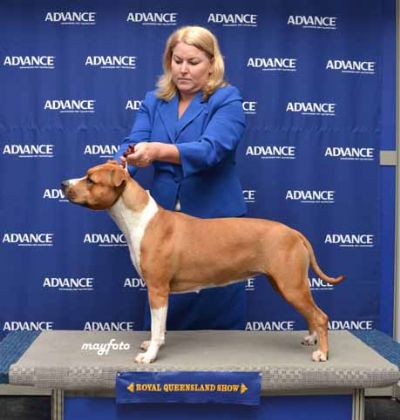 Heidi winning her class at the 2011 Royal Queensland Show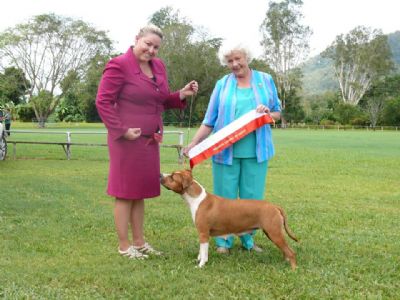 Heidi winning reserve in group Pioneer Valley Kennel Club 14.04.12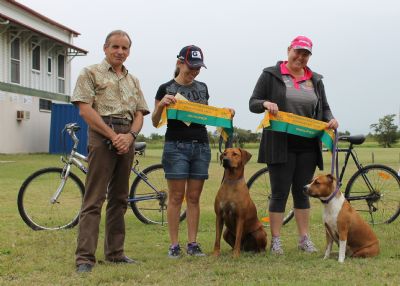 "Ch. AmstarFX Heidi Ho E.T."
Heidi passes her Endurance Trial 24.06.12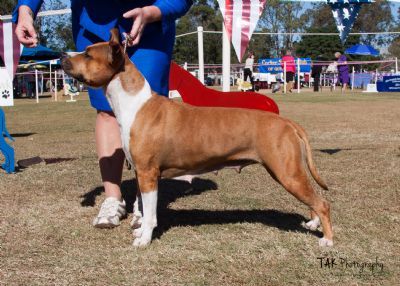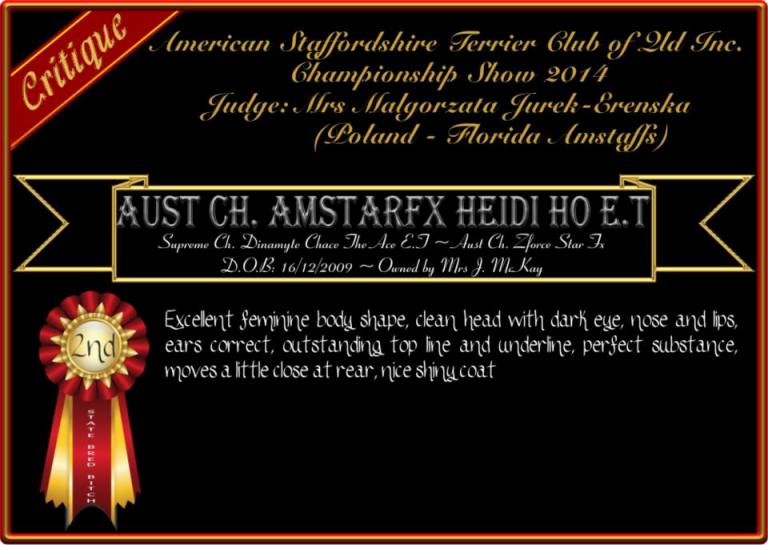 Heidi 4 1/2 years at the 2014 Qld Amstaff Specialty Show winning best parent and progeny
D.O.B -

s. MBIS, MRBIS, RBISS Gr Ch Dinamyte Chace The Ace ET

s. Ch. Tsamstafs Red Rock

s. Ch. Mackamstafs Hawk

d. Ch. Bluesteel Diamond Mask (AI)

d. Ch. Dinamyte China Rose CD ET

s. Ch. Bluesteel Lucifer (AI)

d. Ch. Wharekuri Cochinnenako

d. Ch. Zforce StarFX

s. Ch. La Exotica Latino Heat

s. Ch. Grimlocs Aces High V Stafface (Imp USA)

d. Zforce Tomb Raider

d. Ch. Tangogold Cheif Maka

s. Ch. Yanegua All Tanked Up

d. Lyntiki Midnight Madness
Contact Details
Jodie McKay
North Queensland, QLD, Australia
Phone : 0437 820 678
Email :
[email protected]