RUBIS AUST. GRAND CH. DINAMYTE SHEZ DA BOMB
"Tyra"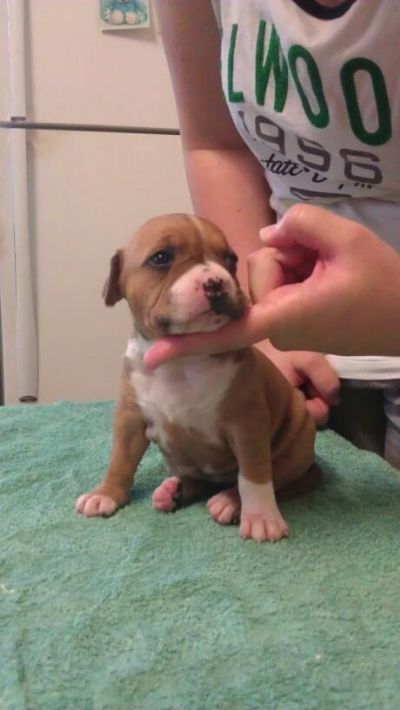 3 weeks old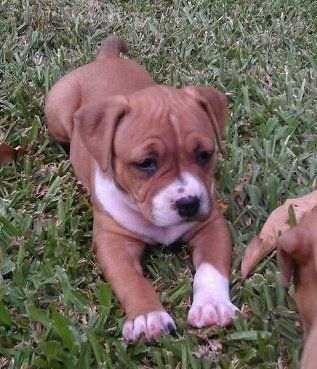 5 weeks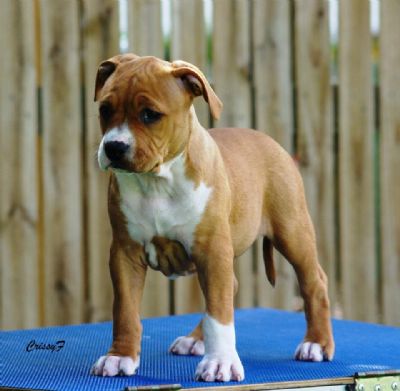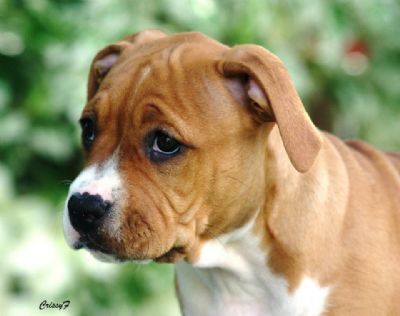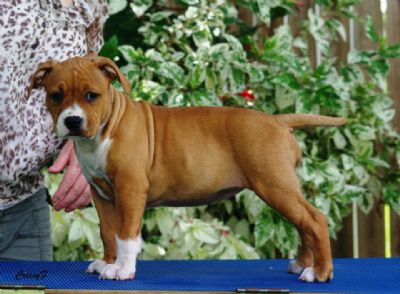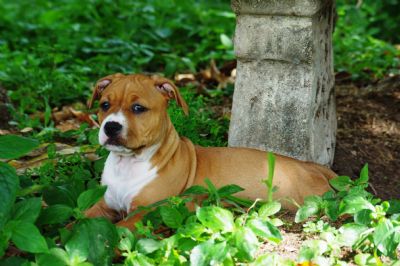 Tyra at 8 weeks old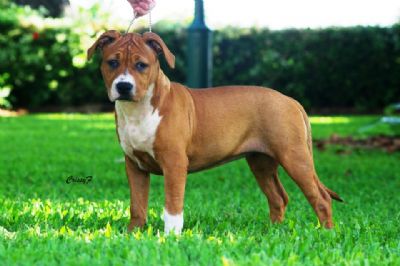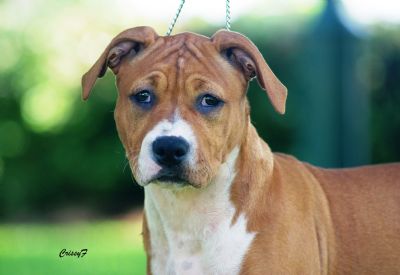 Tyra 3 months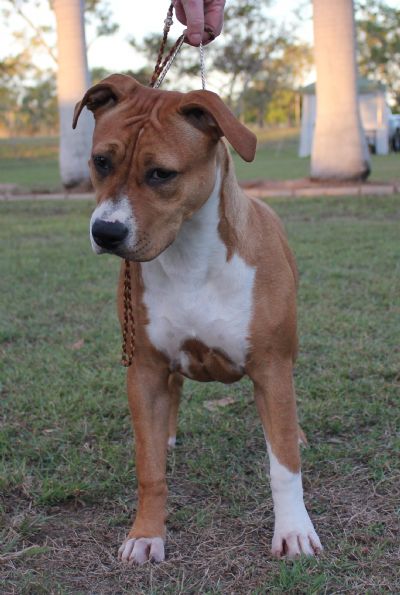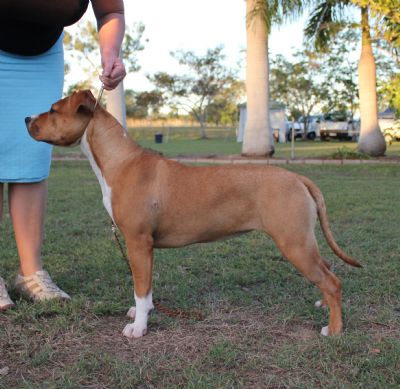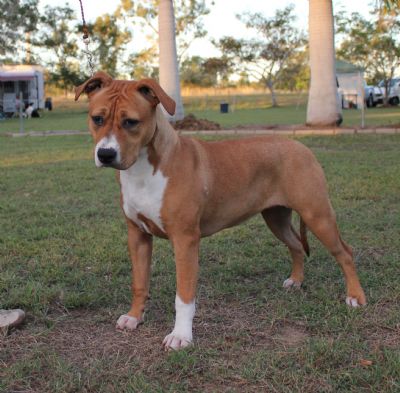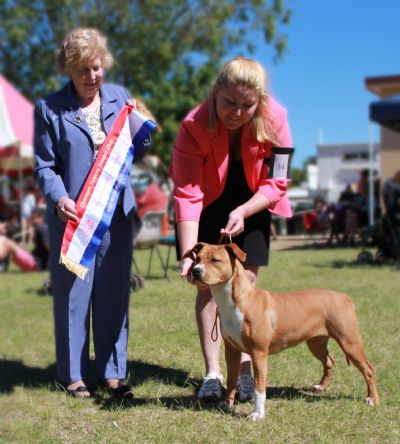 Tyra winning Minor Puppy in Show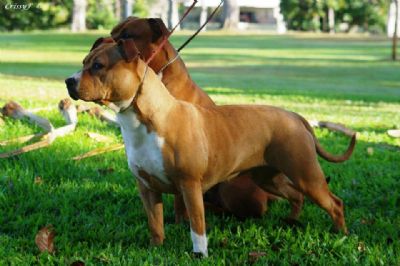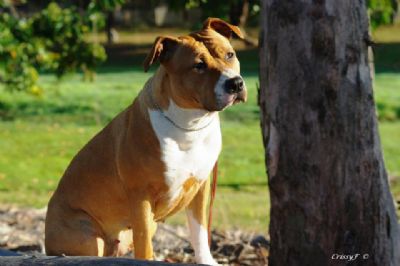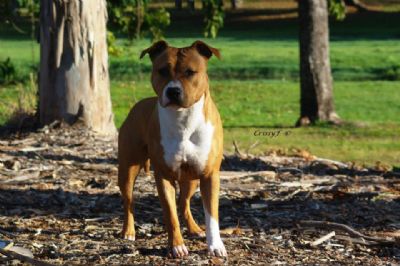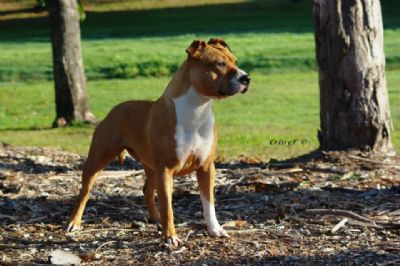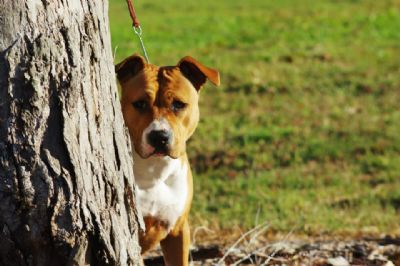 Tyra wins Best Opp Puppy in Show at the 2012 ASTCQ Championship Show
"Good balanced head with lovely pronounced cheek muscles, strong front. Hindquarters well muscled".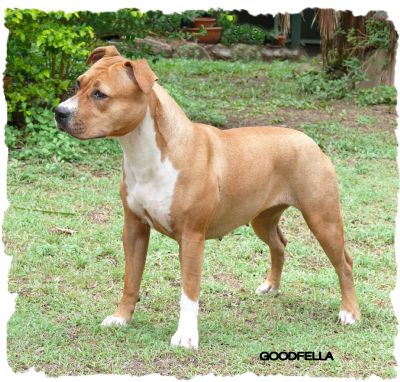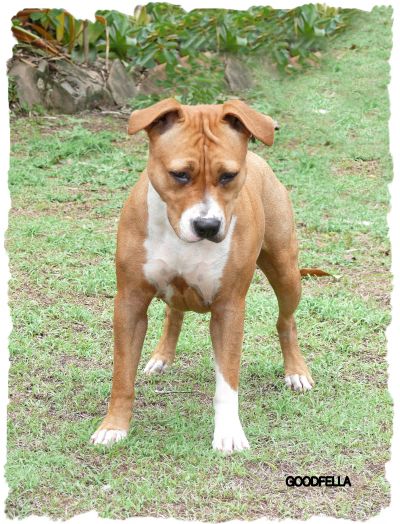 Tyra 13 Months
Introducing our beautiful little girl, Tyra. Tyra is a stunning red and white girl with loads of attitude. She is a multi Best of Breed, Class in Group and Class in Show winner and attained her Aust. Champ title at the tender age of 9 months. We look forward to campainging her. Tyra is ataxia clear by parentage, eye tested clear, hip and elbow scrored with good results and Cardiac Clear (by Cardiologist)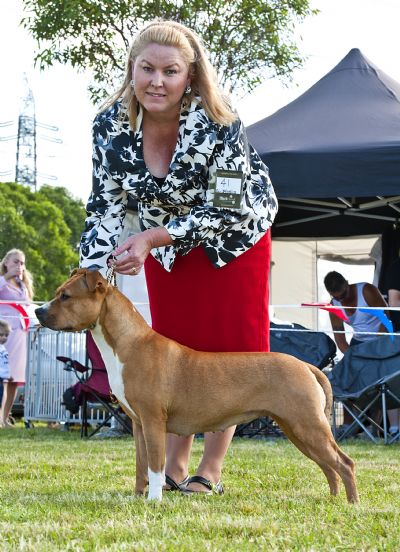 Tyra 15 Months
Tyra wins Best Opp Junior in Show at the 2013 ASTCNSW Championship Show 29th March, 2013
"A nice bitch well-proportioned with nice head with good depth. Good eye correct ears and eyes. Good shoulders, front and hindquarters but moves a little close behind. Correct topline and tail set. Moved well".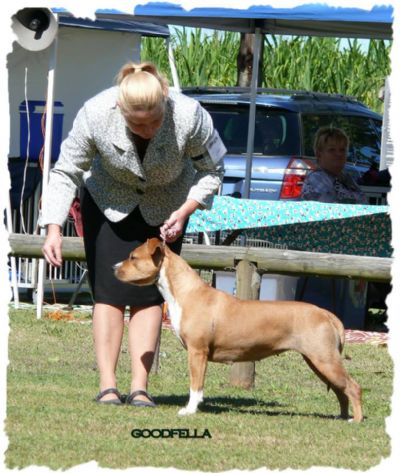 Tyra at 18 months Best in Show line up Sarina Kennel Club Ch. Show 26.05.13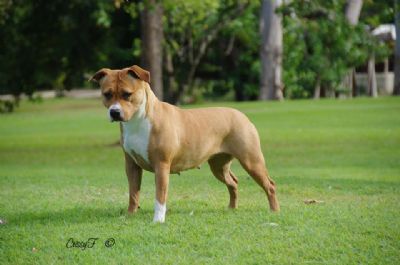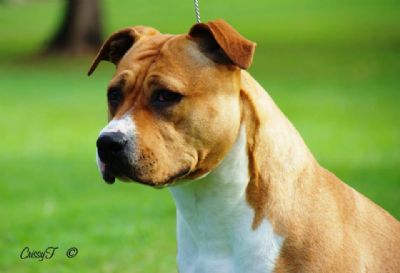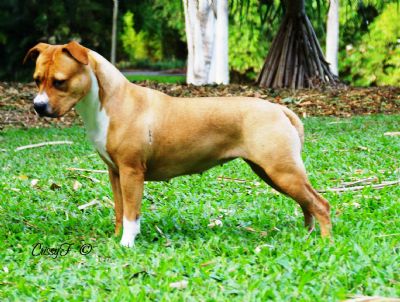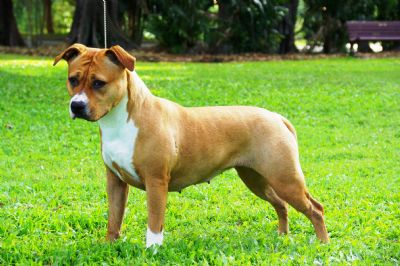 Tyra 19 Months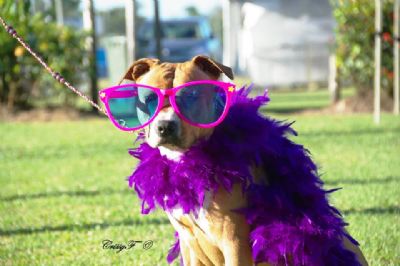 Tyra looking FABULOUS at the Tully & District Kennel Club Ch. Show Photo Booth, Photograher Crissy Fornasier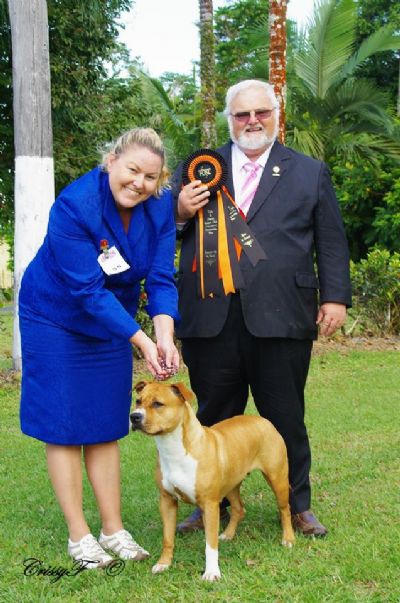 Tyra wins Runner Up to Best in Show at Tully & District Kennel Club 24.08.13 Judge: Rev. C. Seymour (NSW) at 20 months of age
Tully & District Kennel Club Ch. Show
24.08.13 - Tyra Best in Group and Runner Up Best in Show and Thor Runner Up Best in Group - Judge: Rev C. Seymour (NSW)
25.08.13 - Thor Best in Group and Tyra Runner Up Best in Group - Judge: Mrs I. Glynns (SA)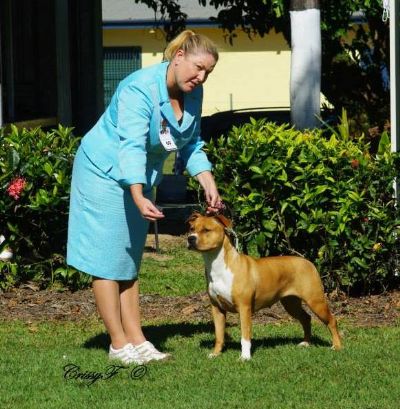 Tyra in Best in Show Line Up Winning Runner Up Best in Show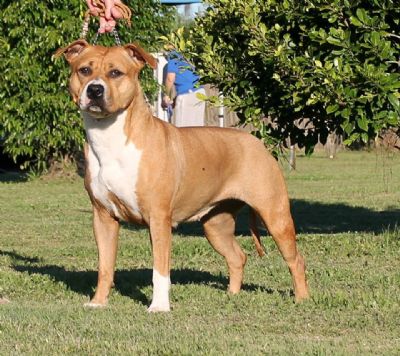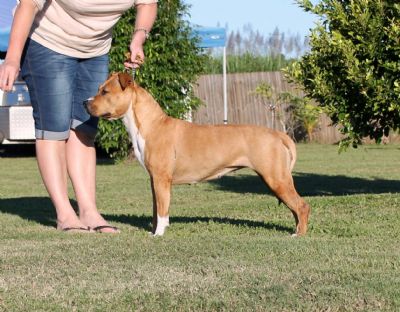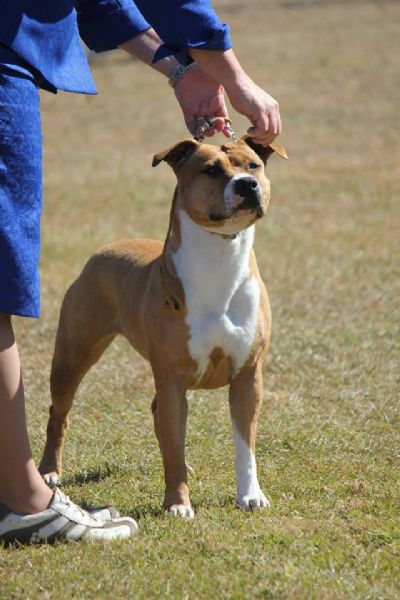 Tyra winning Intermediate in Show 2014 ASTCQ Champ Show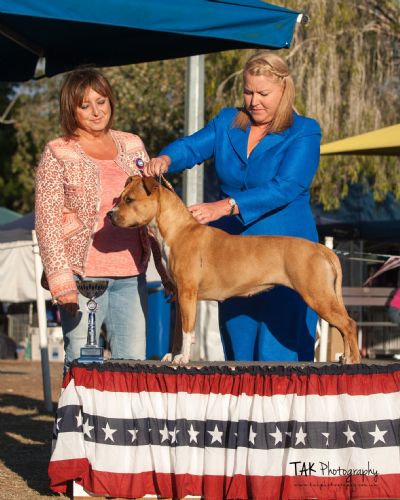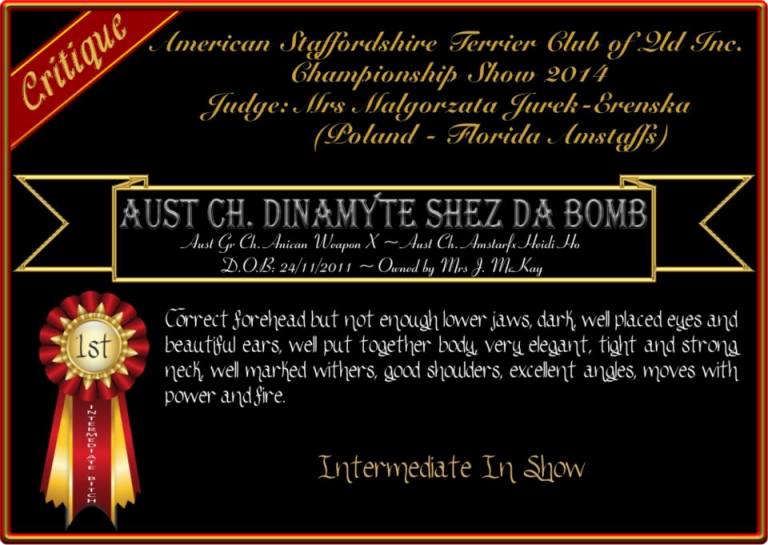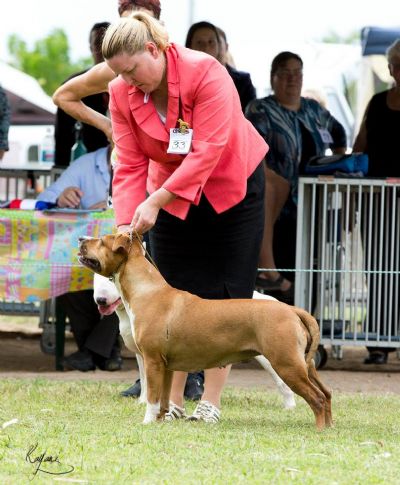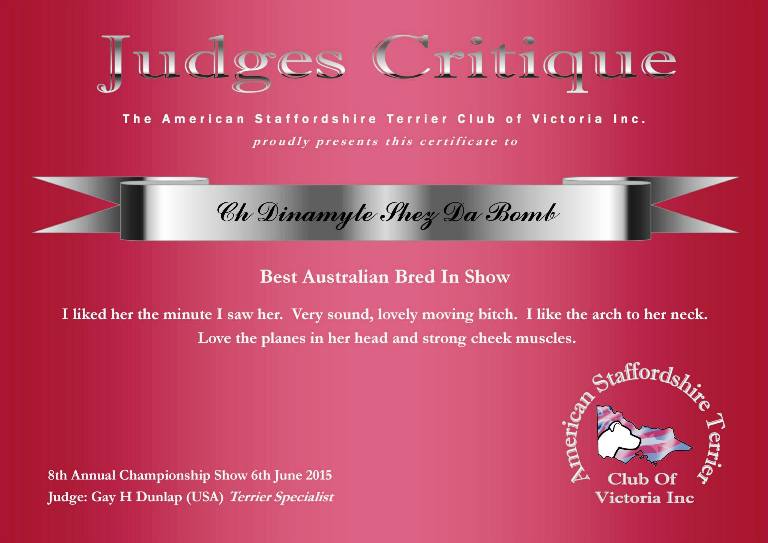 D.O.B - 24.11.11

s. MBISS,MRBISS, BIS Gr. Ch. Anican Weapon X

s. Ch. Ozam Odins Hamma

MBIS, MRBIS, RBISS. Sup. Ch. Dinamyte Chace The Ace E.T. ROH

Ch. Ozam Arizona Aniken

d. Ch. Reveda Tia Maria

Ch. Liamist Solar Warrior

Ch. Waiitis Dragon Wire

d. Ch. AmstarFX Heidi Ho E.T.

s. MBIS, MRBIS, RBISS. Sup. Ch. Dinamyte Chace The Ace E.T. ROH

Ch. Tsamstafs Red Rock

Ch. Dinamyte China Rose C.D. E.T.

d. Ch. Zforce StarFX

Ch. La Exotica Latino Heat

Ch. Tangogold Cheifmaka
Contact Details
Jodie McKay
North Queensland, QLD, Australia
Phone : 0437 820 678
Email :
[email protected]