2008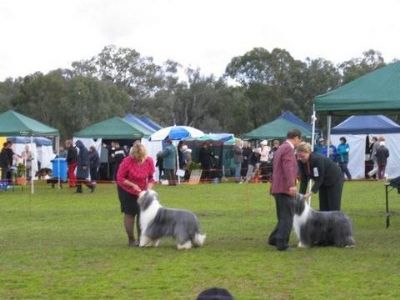 Photo above of Best of Breed judging on the Saturday.
The Beardies Gathered.
In hosting an Interstate Match on the weekend of the 8th, 9th & 10th of August 2008 in conjunction with the Murray Valley Kennel Club Shows in Albury, the Bearded Collie Club of NSW revived a tradition begun more than twenty years ago.
Beardies came from as far away as Melbourne, Newcastle and Adelaide and all points in between to have a fantastic entry of 37 Beardies. Many folk camped on the grounds which made it easy to renew old friendships and make new ones.
The weekend consisted of 3 All Breed shows with points being allocated for participation and placings. Trophies & Sashes, all of which were donated by beardie folk, were presented at the end of each day. Winning dogs were recognised as well as "memorable" performances by dogs and/or exhibitors – all in the spirit of good fun and sportsmanship. One of the highlights was a dinner for over thirty people on the Saturday night – catered & cooked for by beardie folk and held in a camp dining room set up beside Penny & Murray Brook's bus. The night culminated in a Mystery Auction. There was plenty of socialising over the weekend, especially around the all important camp fire.
Friday's brief results: Judge: Mr CV Sudarsan (India)
Dog Challenge & RUBOB Roche's Grand Ch Ulara The Luck Dragon
Bitch Challenge & BOB Lassam's Ch Beardierwe Classy Lady
After the win the Victorians kicked up a bit of a fuss as David Lassam is a recent transplant to NSW and they felt he should have been competing for Victoria. After plotting and planning for a day, revenge is sweet and a very shocked David arrived at the ring Sunday morning to find that his Gazebo had moved to the centre of the Group 5 Ring, with a few extras!
Saturday's weather was a bit challenging for the beardies. As a breed that relishes in the cold they loved the conditions, but not too many of the handlers did. Trying to keep beardies out of the mud and clean was near impossible.
Saturday's results: Judge: Mr L Yuen (Malaysia)
Dog Challenge & RUBOB Finlayson's Ch Bonibraes Bound Toba Star
Bitch Challenge & BOB Buckley/Douglas NZ/Ch Llanddona Rebekah (Imp NZ)
We had thought that it couldn't get worse weatherwise but it did. Sunday was bitterly cold and it rained as well.
Sunday's results: Judge: Mrs J Horton (Victoria)
Dog Challenge & RUBOB Buckley's Ch Stylwise Paparazzi
Bitch Challenge & BOB Buckley/Douglas NZ/Ch Llanddona Rebekah (Imp NZ)
Whilst numerous group awards were received, the weekend culminated when BEST IN SHOW & OPEN IN SHOW on Sunday was awarded to Buckley/Douglas NZ/Ch Llanddona Rebekah (Imp NZ)
Final Match Results are as follows:
Best In Match - NZ/Ch Llanddona Rebekah (Imp NZ) 41 Points
Runner Up to Best In Match - Briarmist Kerfuffle 24 Points
Baby Puppy in Match - Bonibraes Wolfmans Legacy 22 Points
Minor Puppy in Match - Stylwise Mojito & Stylwise Maitai with 13 points each
Puppy in Match - Briarmist Kerfuffle 24 Points
Junior in Match - Bonibraes Crazy for You 15 Points
Intermediate In Match - Ch Llanddona Virtuosity at Briarmist (Imp NZ) 20 points
Aust Bred in Match - Ch Stylwise Paparazzi 23 Points
Open In Match - NZ/Ch Llanddona Rebekah (Imp NZ) 41 Points

Best Overall "Puppy" in Match - Briarmist Kerfuffle 24 Points
Runner Up "Puppy" In Match - Bonibraes Wolfmas Legacy 22 Points

Highest Scoring Victorian - Briarmist Kerfuffle
Highest Scoring NSW - NZ/Ch Llanddona Rebekah (Imp NZ)
Highest Scoring SA - Lokynnda Playing With Fire
Contact Details
Contact the club at the following email address: