What to do in Bermagui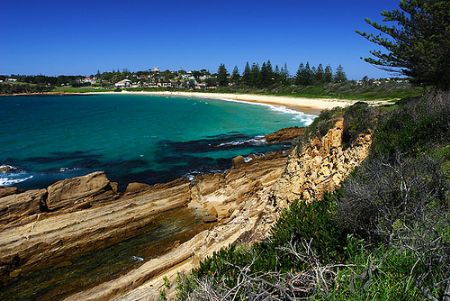 Beaches – Horseshoe Bay off Lamont Street is sheltered and ideal for children. Beares Beach – off Scenic Drive is a surf beach. Mooreheads Beach – at the end of Wapengo Street on the northern side of the harbour is an excellent surf beach.
Camel Rock Beach – north of town is an excellent surfing beach.
Bermagui Fishermen's Wharf complex - Phone (02) 6493 4575, Fax (02) 6493 4848 www.bermaguifishermenswharf.com.au
Blue Pool – off Scenic Drive, watch for sign on ocean side – is a large ocean rock pool, good for snorkeling.
Bruce Steer Pool - at entrance to harbour just past the boat launching ramp, has shark proof net and good for snorkeling.
Bermagui Harbour - fishing fleet, boat launching ramp and trailer parking, fish cleaning tables, weigh-in gantry for game fish.
Bermagui Country Club A magnificent 18 hole golf course, lawn bowling rinks and all weather tennis courts are also available at the club. Call 6493 3445 for more info, visitors and new members are welcome.
Fishing Spots – Haywards Beach, Mooreheads Beach, Camel Rock, and Cuttagee Beach are good for salmon and tailor. Bermagui Headlands, Wallaga Lake mouth and headlands south into Mimosa Rocks National Park are popular rock fishing spots. Estuary fishing in the Bermagui River and Wallaga Lake can be very rewarding. Ask for local advice at the bait and tackle shops.
Game Fishing - Bermagui is an internationally fabulous deep sea fishing and anglers paradise, with an abundance of species and fishing competitions. Charter Boats for deep sea and game fishing trips are available daily. Enquire at Bermagui Visitors Info Centre.
for Bookings, visit Sheriff Fishing Charters at:
www.sheriffchartersnarooma.com.au
The Montreal Goldfields is situated about 7kms north of Bermagui on the Wallaga Lake Road. Gold was discovered on the beach in September 1880 and a real gold rush soon occurred with miners mainly traveling from Sydney on the cargo boats. A portion of the goldfield has been preserved as a community project and the tour by trained volunteer guides offers the visitors a unique experience.
Admission to the site is by guided tour only for safety reasons and so the guides can tell the Montreal story. A tour leaves at 2.00pm each day takes about 1 1/4 hrs. For more information and group bookings contact the Bermagui Visitor Information Centre on (02) 64933054 or 1800 645 808
Wallaga Lake - situated 10km north of Bermagui. Top spot for swimming, sailing, fishing, prawning and water skiing too. Picnic area and toilets are located just south of Wallaga Lake Bridge.
Heritage Villages - 20 minutes to the north of Bermagui is the turn-of-the-century village Central Tilba, which has been classified by the National Trust. Just 15 minutes drive to the west of Bermagui is the working village of Cobargo, with wonderful old stores to browse through, antiques and tea rooms.
For more info visit:
http://www.bermaguifishermenswharf.com.au/
www.narooma.org.au
http://eurobodalla.org.au/3957.htmll
Contact Details
Peter Fazey
Bermagui, NSW, Australia
Phone : 0429140656
Email :
[email protected]