Obedience Classes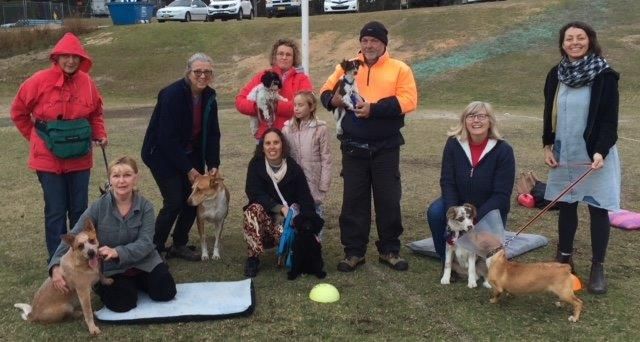 Tathra Obedience Class
The first obedience class for Tathra was held at the footy oval from 30/5/18 to 4/6/18 by the Sapphire coast Obedience and Kennel Club. It was a great success consisting of 7 puppies under 8months and 2 older dogs. It became a real family affair with kids enjoying their new family member learning the basics, older dogs enforcing manners on the pups! and instructor Marina Pitsonis with dog Deena trying to keep all in check! An enthusiastic group of dogs and handlers, learning basic commands, exchanging ideas, discussing problems and issues. This allowed the group to unite as a fun and productive Monday afternoon. Participants all hoped for future training classes. Congratulations. Marina Pitsonis - Instructor.
TRAINING USING THE CLICKER METHOD-New Class Starting Soon!
a highly motivating way to train your pooch the basics, fine tune commands, teach tricks'
and more.A method the handler needs to master and your dog will never forget!
STARTING MONDAY 28th. OCTOBER 2019 5.30pm.-6.30pm
WOLUMLA REC GROUND
6 WEEKS COURSE $60 INCLUDES MEMBERSHIP and Clicker
POSITIVE REINFORCEMENT METHODS
CONTACT MARINA PH- 64945398 EMAIL- [email protected]
.
Contact Details
Peter Fazey
Bermagui, NSW, Australia
Phone : 0429140656
Email :
[email protected]