Montreaux News
Catherine & Sherman @ Nov BMDCV Specialty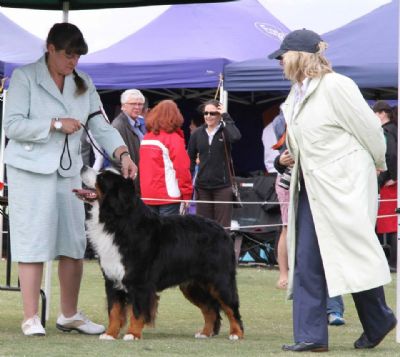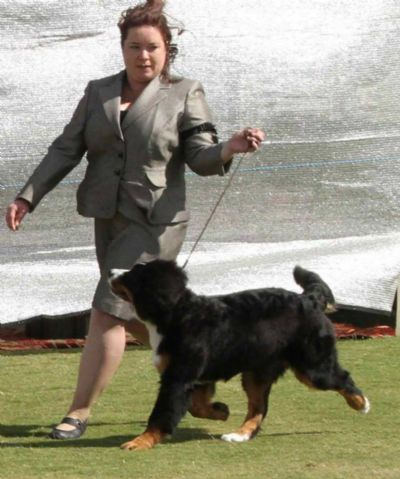 Toya & Sheridan @ BMDCV Specialty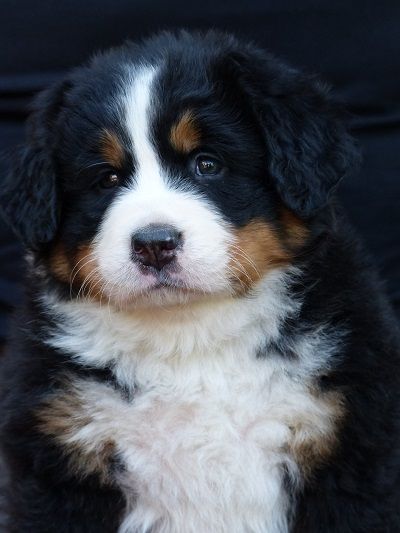 Devlin & Evie girl (Kerrin's new baby)@ 6 weeks above photo by Sue Murray & Specialty photos courtesy of Claudi Guli

17/01/1
As always the months fly by & we realized that the website needed updating.
December: Montreaux welcomed 2 litters into the world. The 1st was Devlin & Evie...2 girls & a boy: the 2nd was from Devlin & Eden...1 boy. They were the quietest litters I have ever had, with Evie taking her motherly duties very seriously.
November: The BMDCV Specialty was held @ Goonawarra & the Montreaux reps were: Erica & Devlin, Catherine & Sherman, Michelle & Ava, Emma & Max & Sheridan hit the jackpot showing Evie, Ilsa & Toya. It was a cool day which was great for the dogs & their owners.
September: Sharon & I travelled to South Australia with Evie, Isla, Chanel & Merlot (who came along for the ride) for the Adelaide Royal & the BMDCSA Specialty. We stayed at Ben & Holly Taylor's Wirrina Cove Holiday Park & had a marvelous time. As we didn't have enough room in the trailer & we had girls in season, Devlin had another road trip with Sheridan, Jane, Barney & the Newf's . He has seen a fair bit of Australia since he landed in Oz, 2 road trips, 1 to Newcastle & the other to Adelaide & a plane trip for a "working holiday" to Sydney.
The girls were unhappy being inside at the Royal but everyone behaved beautifully for the BMDCSA Specialty where Jan Herngren was our international judge. It was a beautiful sunny day, not too hot...Erica, Ryan & Amanda flew over from Melbourne for the day to cheer on our dogs, we had a wonderful day & the judging was excellent.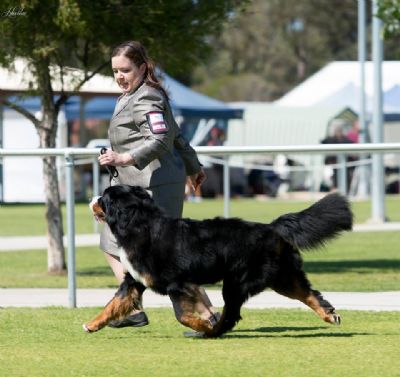 Devlin on the move @ BMDCSA Specialty 2014 shown by Sheridan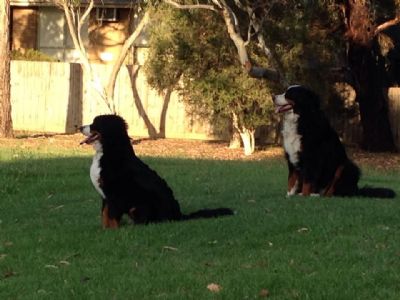 Bam Bam (Devlin & Sedona pup) & Pebbles
20/07/2014
Updates at Last
June 2014
In June the BMDCV held it's Open & Champ show. Montreaux was represented @ these shows by Ava, Merlot, Sherman, Max, Winter & Devlin. Unfortunately there are no photos of Ava, but next time I'll make sure to get some.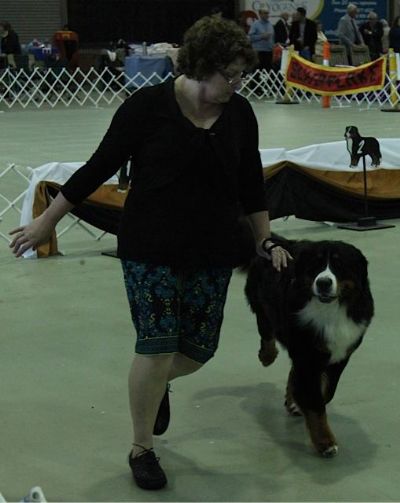 Erica & Devlin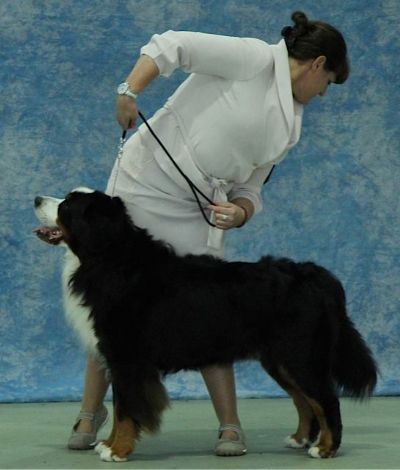 Catherine & Sherman
Dana & Merlot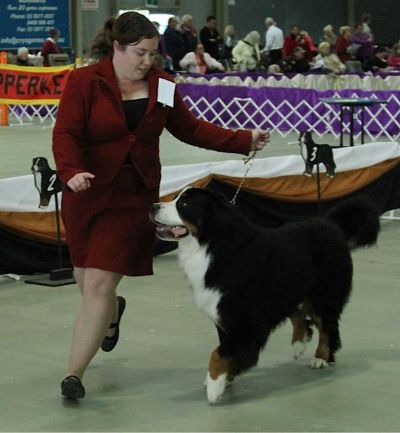 Sheridan & Winter
Paul & I were lucky enough to go on a trip of a lifetime to the UK & Italy. While we were away Helen Potter came & looked after the puppies. We are so lucky that Helen was able to move in & help us out.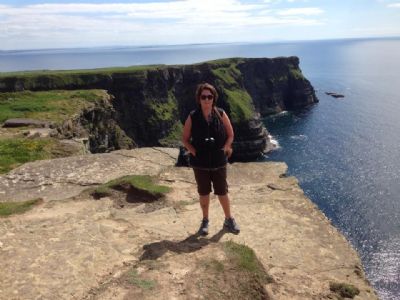 Kerrin In Ireland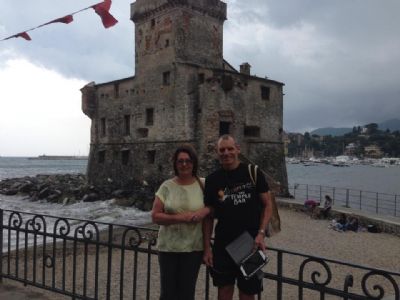 Kerrin & Paul Italy
May 2014
Devlin & Sedona became parents for the first time!!! 3 boys & 1 girl.. And what an awesome litter they were, big chunky puppies.The girl "Montreaux Spanish Eyes" Toya will be staying here @ Montreaux. They were a very consistent litter with a lot of Devlin's quirks coming through.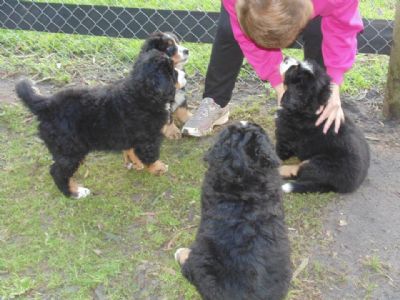 Devlin & Sedona litter with their Nanny Helen Potter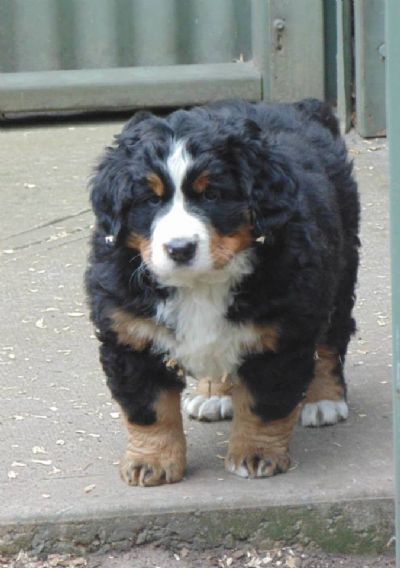 One of Devlin & Sedona's chunky babies
April 2014
Devlin was lucky enough to head north to Sydney with Erica to compete at the Sydney Royal Easter Show. He also had a short holiday in Newcastle. Ryan & Amanda showed him the sights of Newcastle as well. Devlin came 2nd in his class which was a great effort.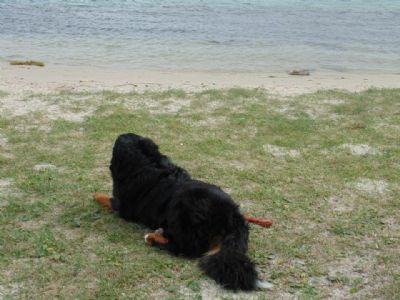 Devlin relaxing @ Lake Macquarie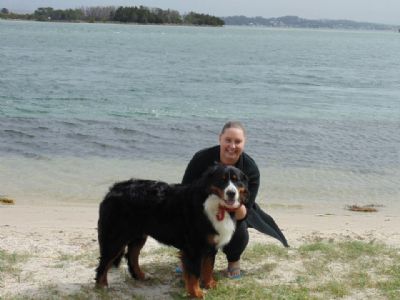 Amanda showing Devlin the sites....
Gosh...Where to start.
The beginning of the year started off with a bang in the show ring. Devael Stufftoshake aka "Devlin" on the Australia Day weekend, won Junior in Group, against some truly wonderful dogs & then went on to compete for Junior in Show. Devlin had never been shown inside & he took it all in his stride, Erica on the other hand was a wreck. He didn't place but it was a fantastic opportunity to strut his stuff
.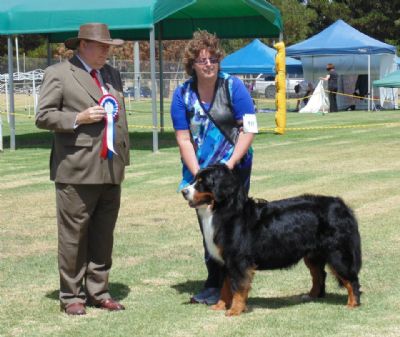 Junior in Group Australia Day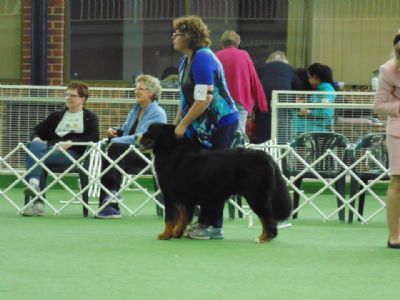 Competing for Junior In Show Australia Day 2014
4/01/2014
HAPPY NEW YEAR

2014 has started with a BANG!!!! with something VERY special planned...so stay tuned for future developments.

My goodness...where does the time go? It has been nearly a year since I updated my website... 2013 was a VERY busy year, this is the year in review.
We started the year off with 2 big litters; a litter of 10 from Lola & Chase & a litter of 11 from Ronnie & Kim Mitchell's boy Hudson (Latruda's Four leaf Clover) so we were super busy for the first couple of months.

From Lola & Chase's litter, Montreaux Captain Jack "Max" went to live with Kay & Emma Scheisser. He has just turned 13 months old & is beginning to fill out but he will take a long time to mature in body & mind.

We kept a girl from Ronnie & Hudson, Montreaux Winters Tale "Eden" who lives here @ Montreaux & a boy Montreaux Winterlude "Winter" who lives with Sheridan & Paul and is co owned by Sheridan & myself.

Next, Erica Salvesen & I started the very exciting but daunting adventure of importing a very special boy from Devael's kennel in Spain. Devael Stufftoshake "Devlin" arrived in Australia on his first birthday and we can't thank Nuri & Norbert enough for trusting us with this wonderful boy. Devlin lives with Erica @ Nightmyst & will holiday at "Montreaux".

Sherman & Evie had a wonderful litter of 8 & we are very happy with how they turned out.

The rest of the year passed in a bit of a blur until I looked up & it was Xmas.....

9/02/2013
Wow!! This week has been very exciting for Montreaux... Firstly Chase was awarded his final points and is now an Australian Champion, what a fantastic achievement. Congratulations to Dana for making this dream come true.

Sherman's hip and elbow scores have come back... hips 0,0 & elbows 0,0 Woo hoo!!!! You can't get better than that.

6/01/2013
Welcome to my new website. 2013 will be an exciting year for Montreaux Bernese so stay tuned for updates.

---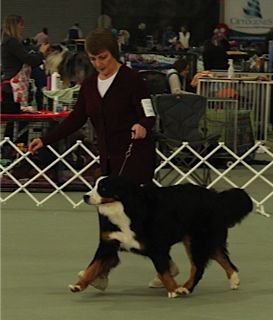 2012 ended on a successful note with Montreaux Secret Liason (Sedona) having some very good wins in the showring, she is well on her way to her Australian Title. Congratulations to Helen on her wonderful handling skills and to Sedona for maturing into a fantastic show dog.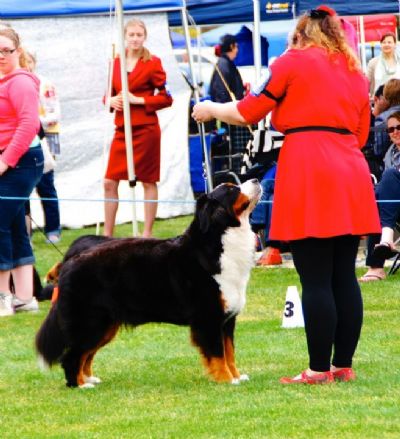 Not to be outdone Montreaux Good as it Gets (Evie) stormed home for her Australian Title in November 2012.

Contact Details
Kerrin Balchin
Rosebud, VIC, Australia
Phone : (03)59812317
Email :
[email protected]