Puppies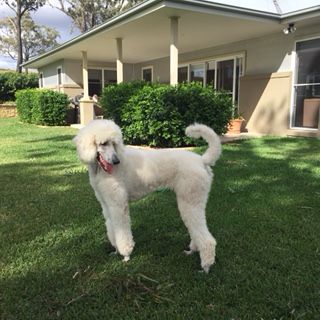 MANRAY POODLE PUPPIES - 2022 and beyond
We may have a litter of pups in 2022, perhaps from Stella (see pic below), subject to the mechanics of moving around under Covid restrictions. We will expect them to be either black or white.
********
Below I have frequently referred to the Coefficient of Inbreeding (COI). The COI is a measure of a number of things, including the probability of a recessive gene being expressed. If the COI is 25, expressed as a percent, it means there's a one in four chance of a recessive gene being expressed. If the COI is 10, it means a one in ten chance, and so on. A COI of 6.25 reflects a first cousin relationship between the parents. A coefficient of inbreeding of 25 reflects that the parents are full siblings, or one is the parent of the other. There are other effects of a high COI such as shorter lifespan, smaller litters, etc. The relationship of these effects to genetic recessives is something I have not explored.
Recessives can be good or bad. When you increase the COI you increase the probability that those recessive genes will be expressed. It may be a desired hair colour, or it may be an auto-immune disease. DNA research allows us to identify and control for SOME identified undesirable recessive genes. However, if we rigidly choose not to breed with an animal known to be carrying a recessive gene we don't want, we may also lose any desirable genes the animal may carry. These could include modifying genes that limit the impact of other undesirable recessive or even dominant genes. We can make the same mistake by pursuing a rigid program to breed only with animals that have a particular desirable recessive gene, a particular hair colour or tail carriage for instance.
Also, there are many undesirable recessives we have no DNA test for. We may kid ourselves that we are breeding healthy genes by doing DNA testing and rigidly culling, but there's a lot we can't test for. We may seek to imitate natural populations whose random breeding limits the inbreeding and thus limits the chances of undesirable recessive genes being expressed. But apart from the difficulty achieving that in breed populations that already have severely limited genetic diversity, we are likely to lose the objectives that we're breeding for in the first place. There's no point in breeding a Poodle that looks and acts like a Labrador, and vice versa. There are risks to both breed type and healthy genetic diversity in applying strategies that are too rigid. Breeding is complex and never risk free. There is no silver bullet. As breeders we have to use a number of strategies: DNA testing, using depth pedigrees to avoid inbreeding unless scientifically managed, careful observation of dogs in a pedigree and their relatives to see patterns of unidentified recessive genes operating, understanding the inter-action between environment and inheritance, working to increase genetic diversity if necessary - these are some of the things that must inform a careful but never risk free breeding program.
*********
Here are some pics of earlier members of the Manray Poodle clan and some of the more recent members who are themselves on the way to becoming ancestors of future generations.
Kooper (Manray Day Lewis), born 2005. Kooper was a son of Lester and Maud - see pics below. Lester and Maud were chosen for each other to reduce the coefficient of inbreeding (COI). Lester had a COI of 23.92 (10 gen), 30.35 (12 gen). Kooper and his siblings had a COI of 5.14 on 10 generations, and 8.95 on 12 generations. Success! There is frozen semen from Kooper (thank you Barry and Margaret) which may be available for future breedings.
Kooper at 8 years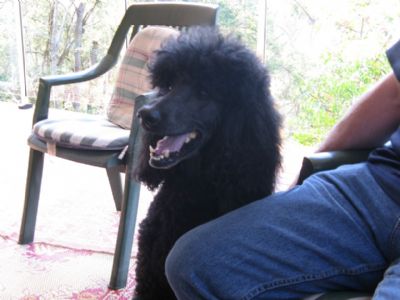 Kooper's mother was Maud (NZ Gr Ch Pinafore Pacifika at Kateisha - US, x NZ Gr Ch Tiopepi Ice Maiden from Suraliam - UK). She lived from 2002 to 2017. Maud's COI was 7.32 (10 gen), 9.87 (12 gen). She was beautiful spirit.
Maud at 9 years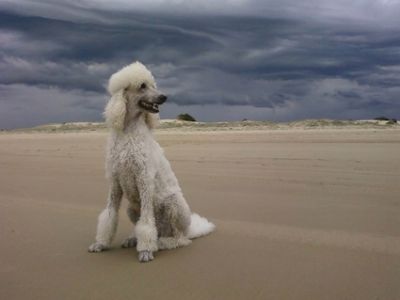 Maud at 11 years of age.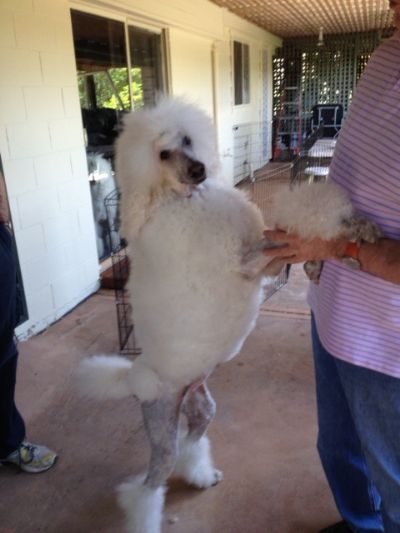 Kooper's father was Lester (Ch Jarnet Tipsy Thomas x Ch Manray B Surreal AI). Lester lived from 1998 to 2010. He was heavily line bred on old Marsden and Dassin lines. He had a COI of 23.95 (10 gen), 30.35 (12 gen). Maud was purchased specifically to be an outcross mating for him. We were very happy with the results - Kooper and his siblings. Lester was a famous hunter of any brush turkeys who dared to enter the backyard. He was a great newspaper retriever, a fearsome guard at the front gate, and he had one of the most perfectly balanced trotting gaits with beautifully collected carriage I've ever seen. He was a fantastic companion.
Lester at 11 years of age
Kooper's 2010 son Teddy (aka Manray Fashion On Ice) from Poppy (Avonti Poppy Golightly AI, a daughter of Am/Dan Ch Prestige I'll Do Anything). Coefficient of Inbreeding (COI) 5.13 (10 gen), 8.19 (12 gen).
Teddy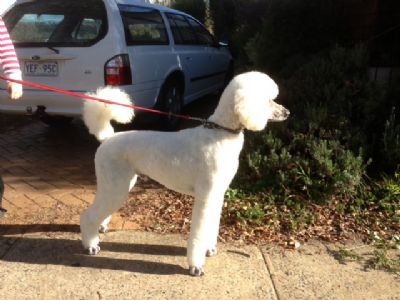 The following are offspring or grand-offspring of Maya (Champion Unique She's Right On Time - imported from the USA). Maya's Coefficient of Inbreeding - COI - is 6.32 (10 generations), 7.8 (12 gen). Maya remains the houshold matriarch and a dog with a lot of love to give.
Maya
Kooper's grandson Tsar (from Pixie, a daughter of Kooper and Maya, shown in the top photo), born October 2018. Tsar's father is Supreme Champion Bouffant Call The Paparazzi AI. Tsar's outcross breeding further reduced the COI to 2.34 (10 gen), 3.72 (12 gen). Tsar is known to all who meet him as one o fthe most lovable dogs they've ever met.
Tsar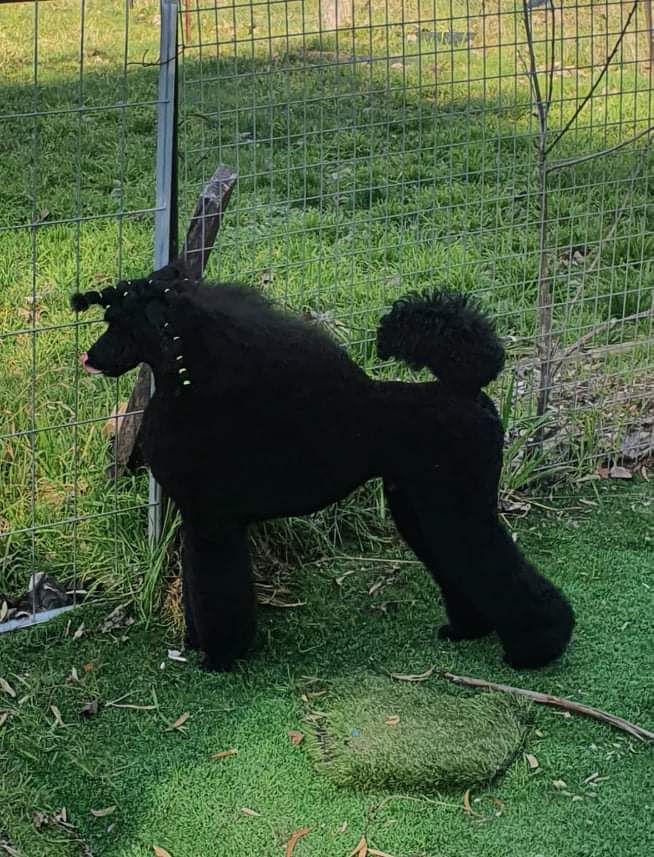 OTHER MAYA descendants but not related to Kooper.
Here is Stella, (Manray Stella Bella), born December 2019. Stella's mother is Nena, my white Maya daughter (see below). Stella's father is Iris Silk's beautiful black dog Evander who is a son of International Champion Huffish Intensive Care (Rocky). I have not been able to get the COI for this litter calculated but as a defnite outcross I would expect it to be substantially lower than their mother Nena's. Stella is stellar.
Stella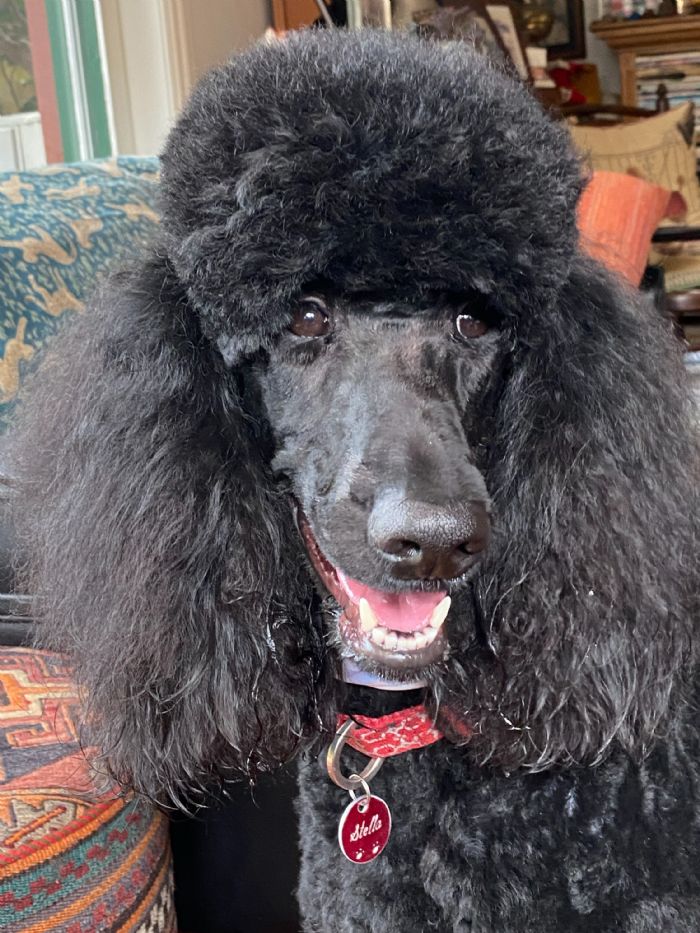 Stella's litter brother Shadow (Manray Shadowplay) - a great country dog.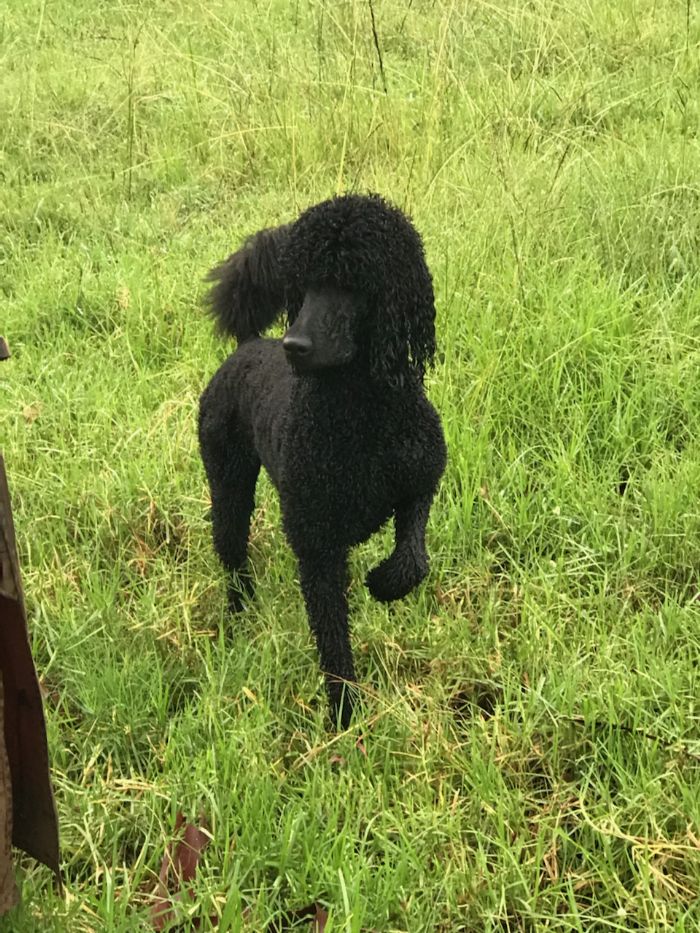 Stella and Shadow's mother Nena (Manray White Poison), born 2017. Her mother was Maya (see above) and her father was Sonny (see below). Nena has a COI of 6.27 (10 gen) and 7.62 (12 gen). Endless energy and a quick observant response before you even know you've thought it. One smart cookie our Nena.
Nena as a puppy at 8 months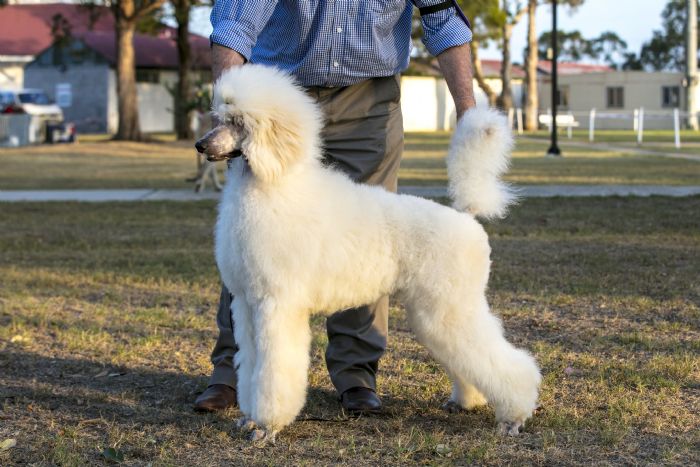 Nena in September 2020, after her December 2019 litter, which included Stella and Shadow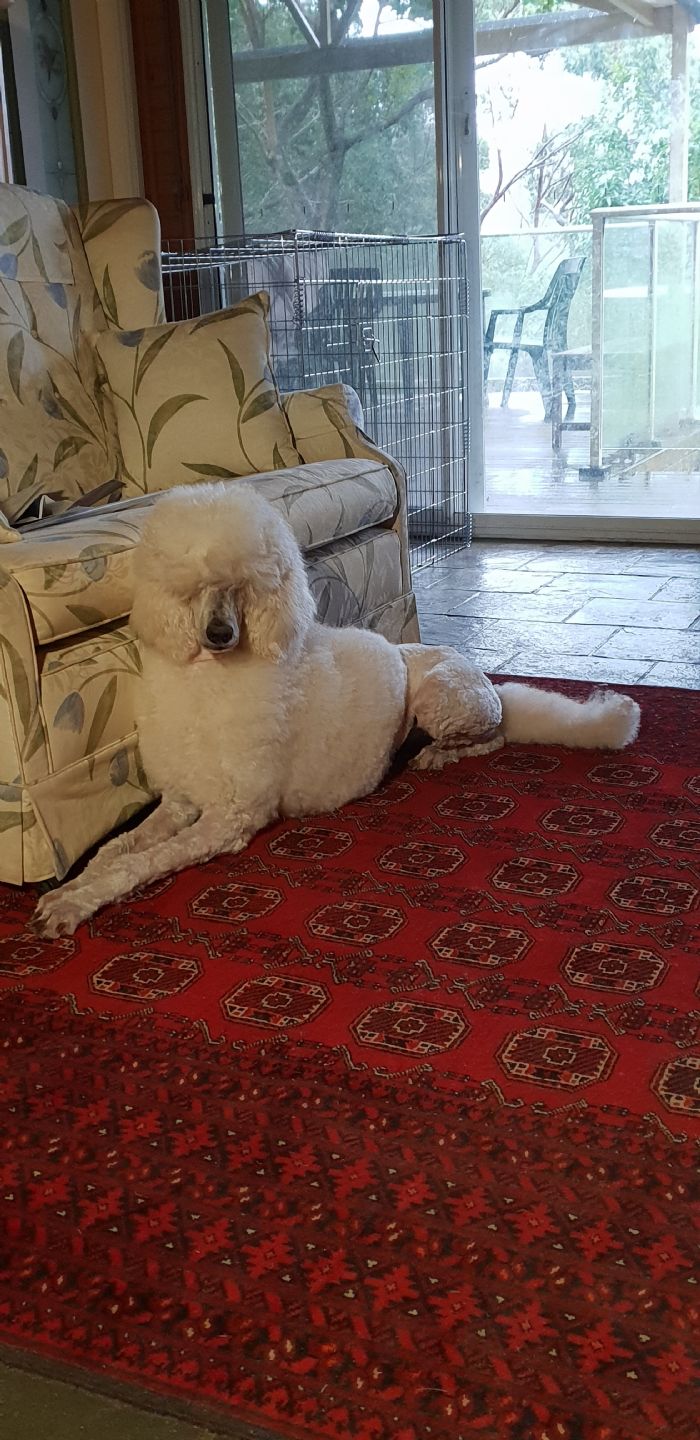 Here is Nena's father Sonny (Poodelle Fairytale of New York, litter brother of the beautiful Supreme Ch Poodelle The Boy From Oz - Hugh). Sonny is infinitely glamorous and enjoying life in his pet home - another puppy pic.
Sonny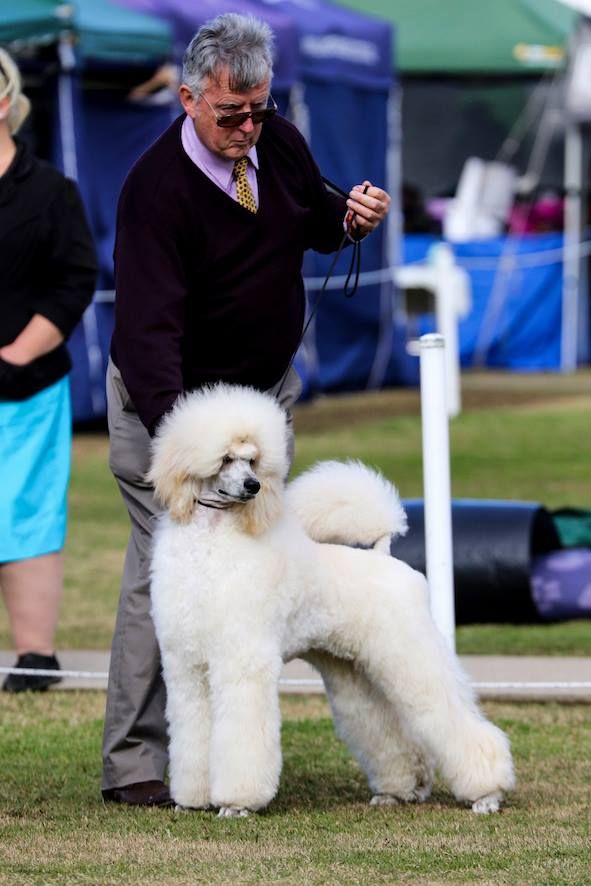 Contact Details
Tom Mangan
Woy Woy, NSW, Australia
Phone : 0419620160
Email :
[email protected]