About Manray Poodles
MANRAY POODLES
We may have puppies available again in 2022.
HISTORY
Joey and Gigi (d.o.b. 11 Oct 2013) on 28 Jan 2014 before going to new homes. Their mother was Maud and their father was Lester. See more info below.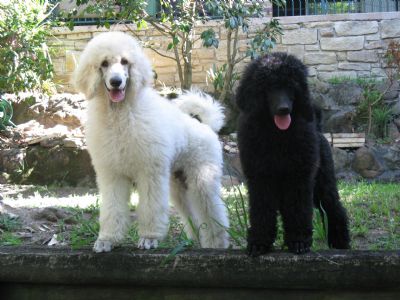 Here's Joey & Gigi's Grandma Maud (Kateisha Rusalka - imported from NZ) in 2013 aged 11. Maud lived from 2002 to 2017, a month short of her 15th birthday.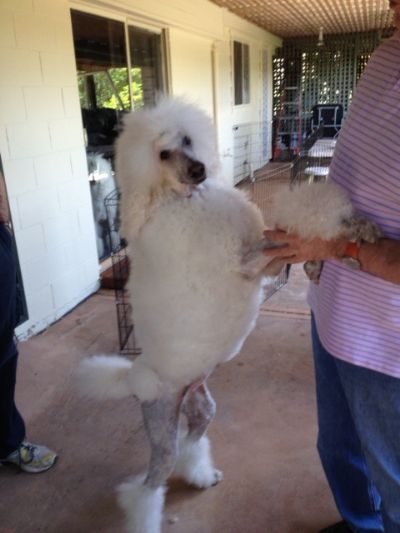 Maud's mother was Misty, aka NZ Grand Champion Tiopepi Ice Maiden from Suraliam (Imp UK - 1995 to 2008), a winner of 15 All Breeds Best in Shows, of all Pinafore breeding on her sire's side and on her mother's, a grand-daughter of the Crufts Best in Group winner Eng & Am Ch Dassin Donahue at Shalanka (a son of Am Ch Dassin Delano, by Am Ch Eaton Affirmed) and otherwise bred from top Montravia and Tiopepi lines.
Maud's father was Patrick, aka NZ Grand Champion Pinafore Pacifika at Kateisha (imported from the USA). Patrick was the top show dog by number of Best in Show wins in NZ. His father was Christopher, American Champion Unnique Over The Rainbow, a Westminster winner. His mother was the big European Winner German and International Champion Warwick Delemma.
Maud was purchased as an outcross to my black dog Lester, aka Flitwick Hotstepper (1998 to 2010). Lester's father was the all-Marsden bred black dog Ch Jarnet Tipsy Thomas (Ziggy), a Poodle Club of NSW Best in Show winner. Lester's mother was the black Ch Manray B Surreal AI (Amy), who I bred by an artificial insemination mating of American Champion Dassin the Diplomate to my Ch Marsden Ruby Rose. Here's a pic of Lester at age 11.
Lester at 11 years of age
We had some beautiful pups from Maud and Lester - all black or dark grey, no whites. They were more or less an outcross mating, to lower the coefficient of inbreeding (COI). Lester had a COI of 26. His puppies from Maud, because of the outcross, had COIs of 5.14 (10 generations) and 8.95 (12 generations). Here are some pics.
Manray Day Lewis (Kooper: 2005 to 2018) at 8 years of age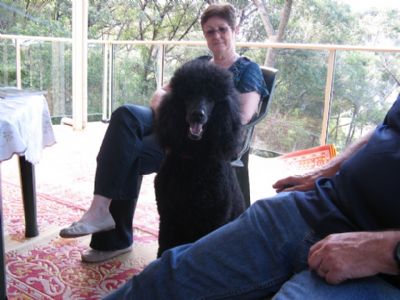 Fred at 6 years of age.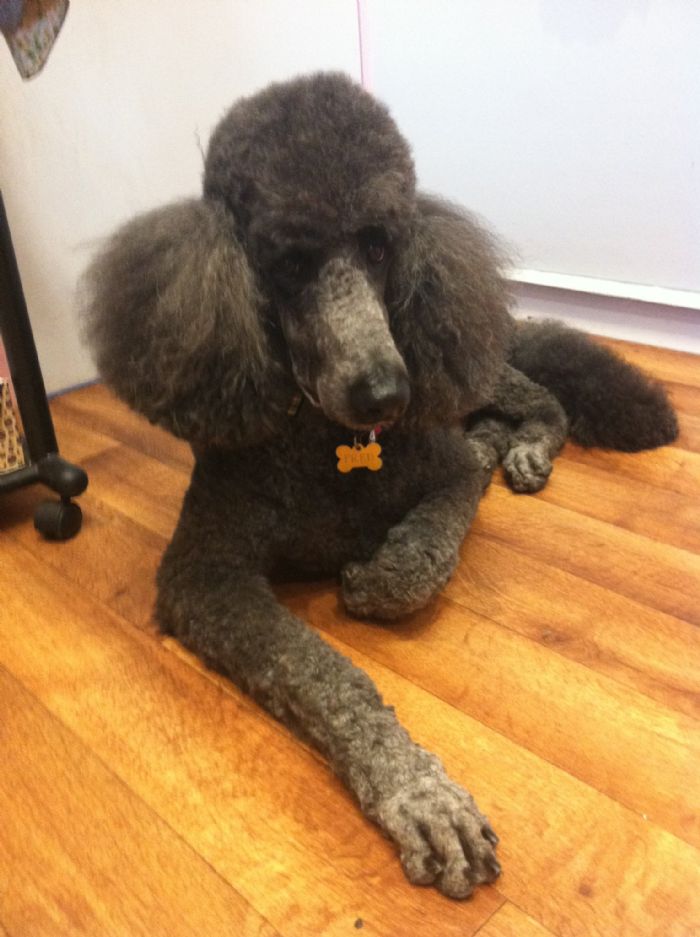 Salome at about 11.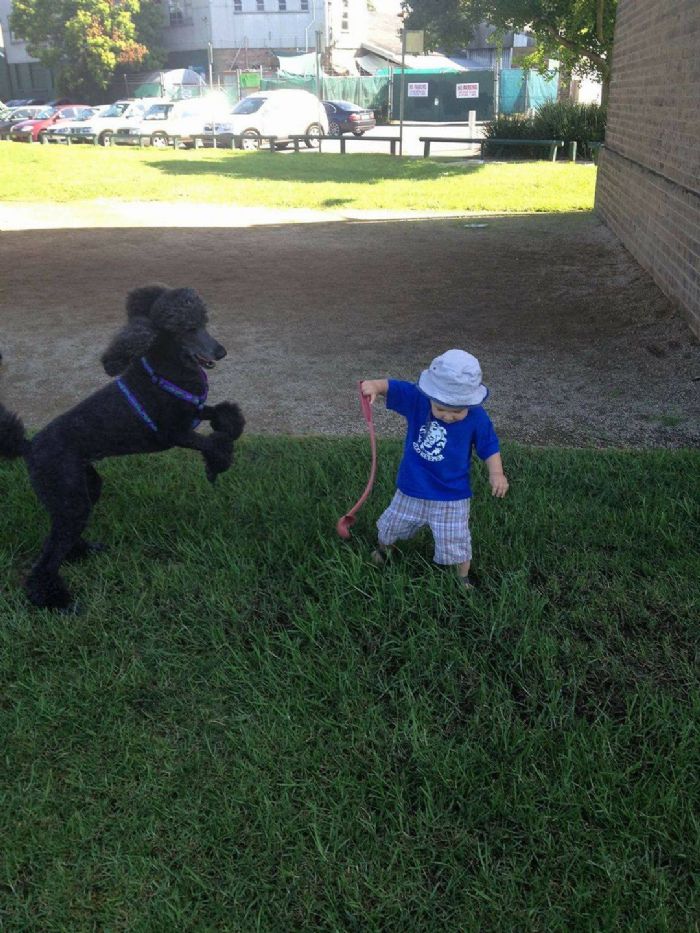 Ruby the 2nd, at 1 year of age.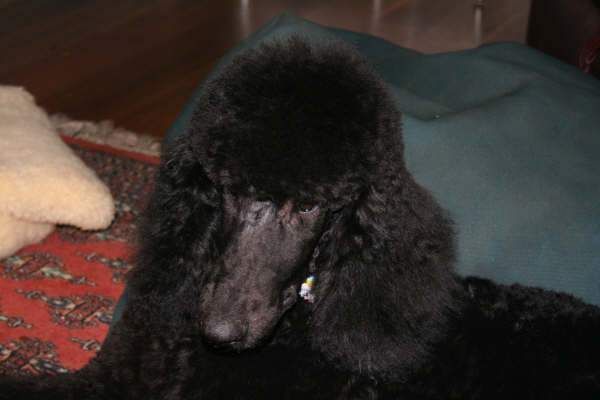 Kooper retained a fairly good black colour into later life. Kooper had a clear eye certificate, hips AVA 3:4 like his dad, and he has tested DNA clear for NE, vWD and DM.
THE PRESENT
Maya (Ch Unique She's Right on Time, Imp USA) is a 23 inch white bitch of great refinement. See her pic below and on the homepage. Her breeding makes excellent use of the Afterglow, del Zarzoso and Unique lines, with a great grandparent cross to Treson. Her father Max was 2nd in the puppy class at PCA when he first arrived in the States, and Reserve Winners Dog at PCA the following year.
Maya has hips AVA 3:3, a clear eye certificate, and has tested DNA clear for NE, vWD and DM. See Maya's pedigree here.
Maya the day she became an Australian Champion in November 2012.
Below - Maya in May 2014 - running wild, lost control! Actually growing hair back before her second maternity experience strikes later in the year and looking to a return to the ring in 2015 (which did not happen!)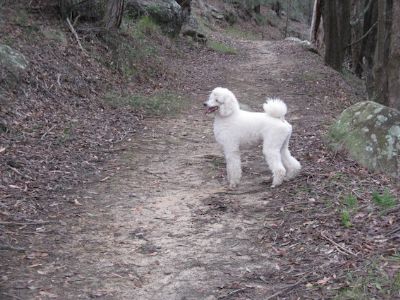 We got some wonderful pups from Kooper and Maya. Pixie from this litter was mated to Supreme Champion Bouffant Call The Paparazzi (Grover). Tsar (see below) is from that litter.
Maya had two more litters and was desexedand at September 2021 is living as the grand matriarch of the house.
Maya's third and last litter, born in June 2017, was sired by Sonny (father Ch Afterglow New York Strip - imported from the UK; mother Champion Poodelle Sugar Fairy). We kept Nena (Manray White Poison) from this litter.
Here is a pic of Sonny in his brief show career as a puppy - again, I was not able to keep up the showing. Sonny's litter brother the beautiful Hugh (Supreme Champion Poodelle The Boy From Oz) was Challenge Dog at the Poodle Club of Victoria show in September 2018.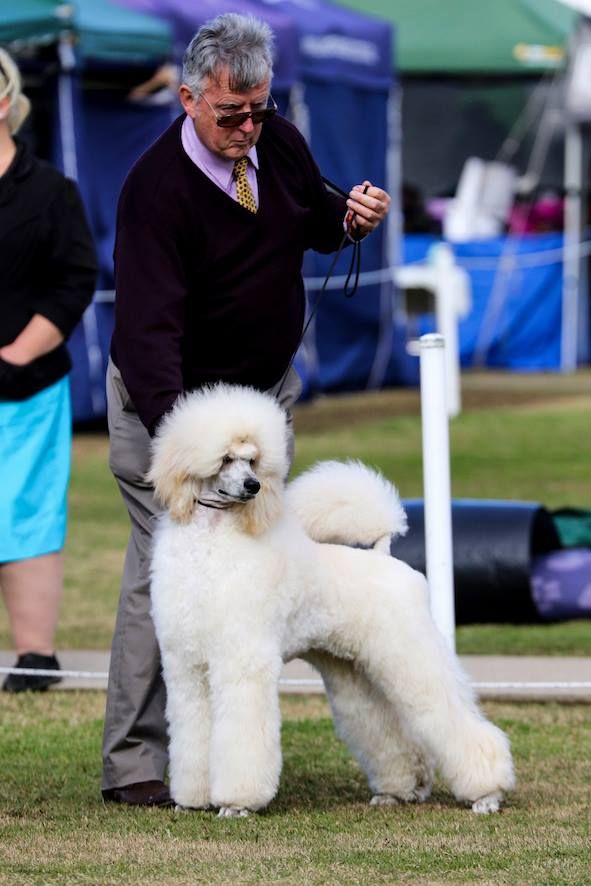 From Sonny and Maya I have kept Nena who was bred in 2019. Here's a pic of Nena earlier in 2018 at about 8 months of age.
Nena as a puppy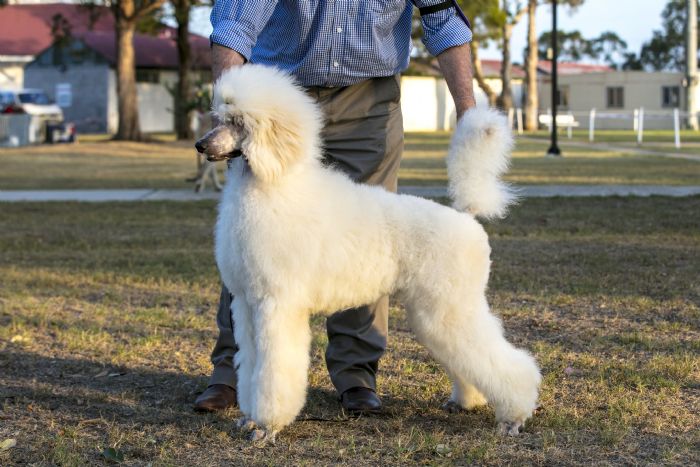 Nena in 2020, 9 months after having a litter of puppies.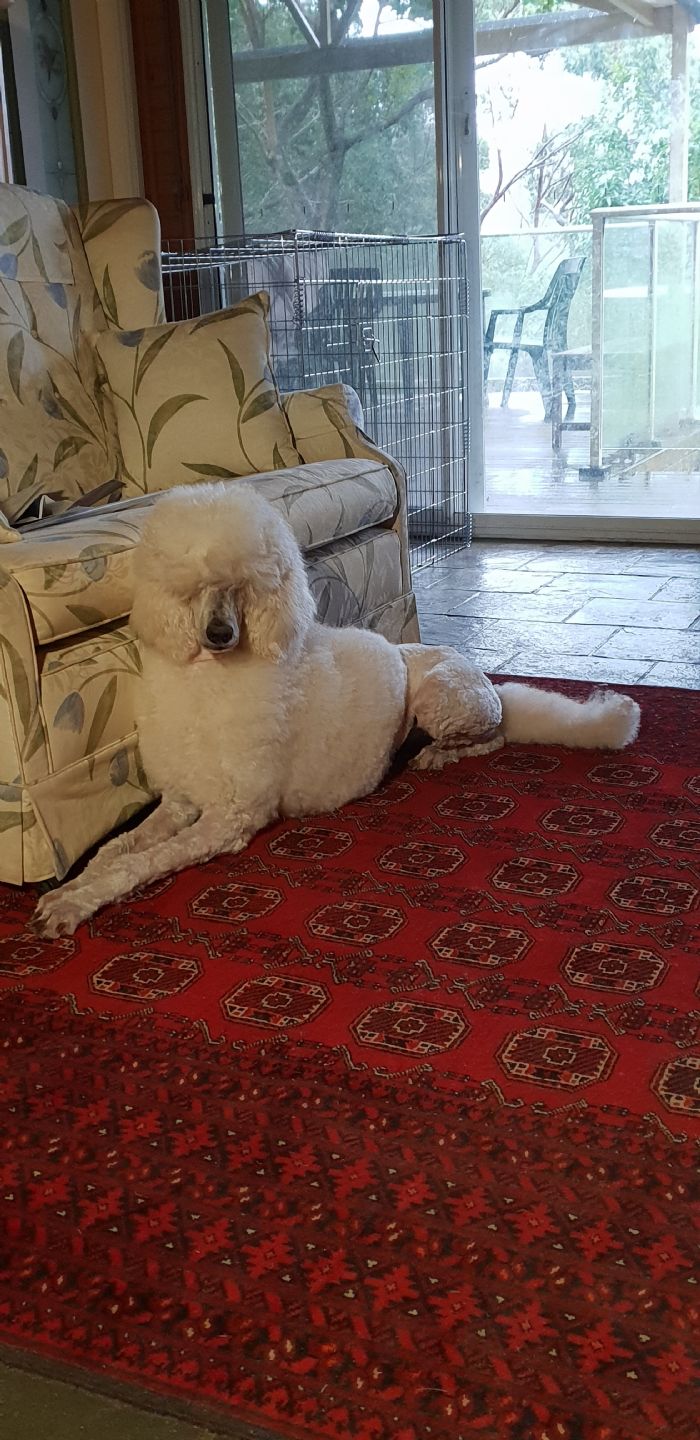 Here are pics of two of Nena's puppies, born in December 2019: Stella and Shadow.
Stella (Manray Stella Bella) - who may herself be a mother some day.
Stella has tested clear for all DNA disease markers and carries black and white. She does not carry genes for brown. She will have hips, elbows, thyroid, physical eye examination and the Addison's Stimulation test before mating.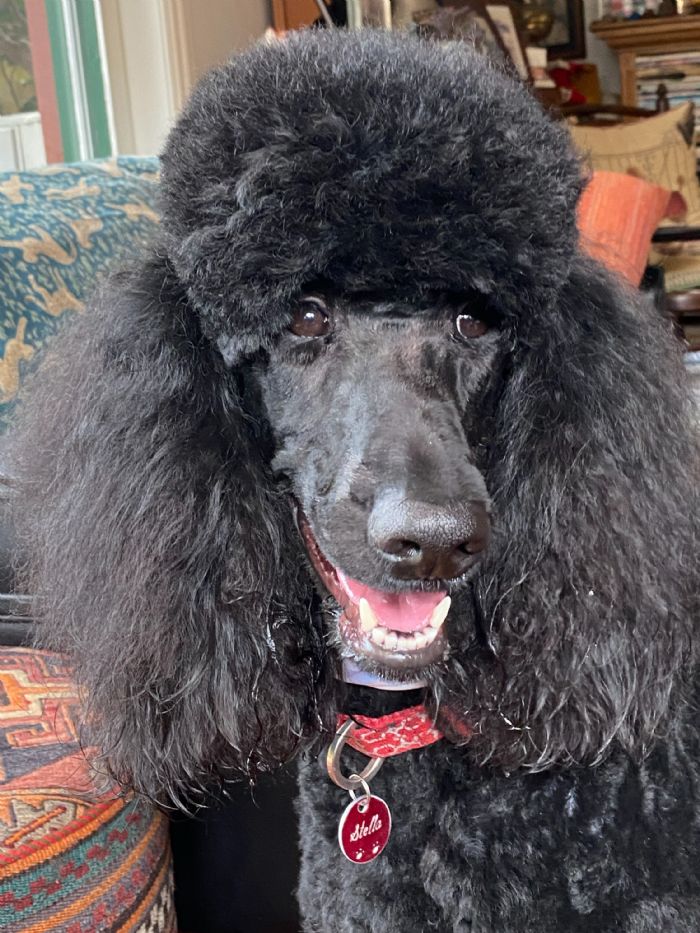 Shadow (Manray Shadowplay)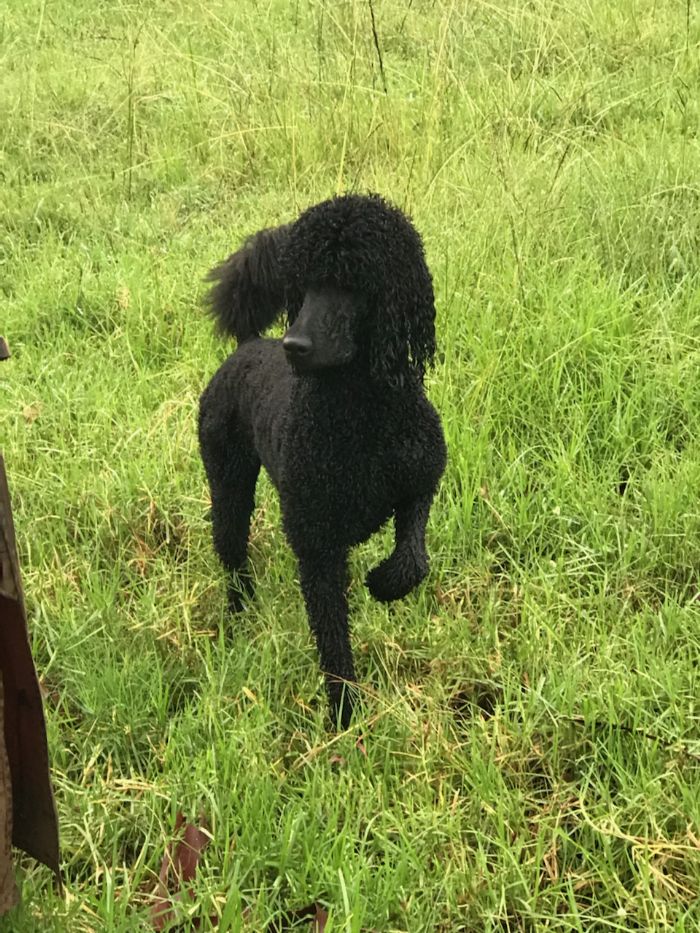 Shadow may be available at stud to suitable, fully health tested ANKC registered Standard Poodle bitches. Will have hip and eye tests. Has fully clear DNA testing. Hips, elbows and physical eye examination to be done before mating.
And finally Tsar, born 5th October, 2018. Tsar's mother is Pixie, the daughter of Kooper and Maya. Tsar's father is Supreme Champion Bouffant Call The Paparazzi (Grover). Tsar is a proven sire who is available to suitable, fully health tested ANKC registered Standard Poodle bitches. Tsar's health and colour testing: clear all DNA marker diseases; Addison's - no family record of it and he's clear on the Addison's stimulation test, to be repeated before mating; DNA colour - black carries white, no dilute, does not carry brown; excellent hips (PennHip 0.34); perfect elbow score 0:0; thyroid normal. Physical eye examination will be done before mating. The pic was taken recently, a couple of months before Tsar's 3rd birthday.
Tsar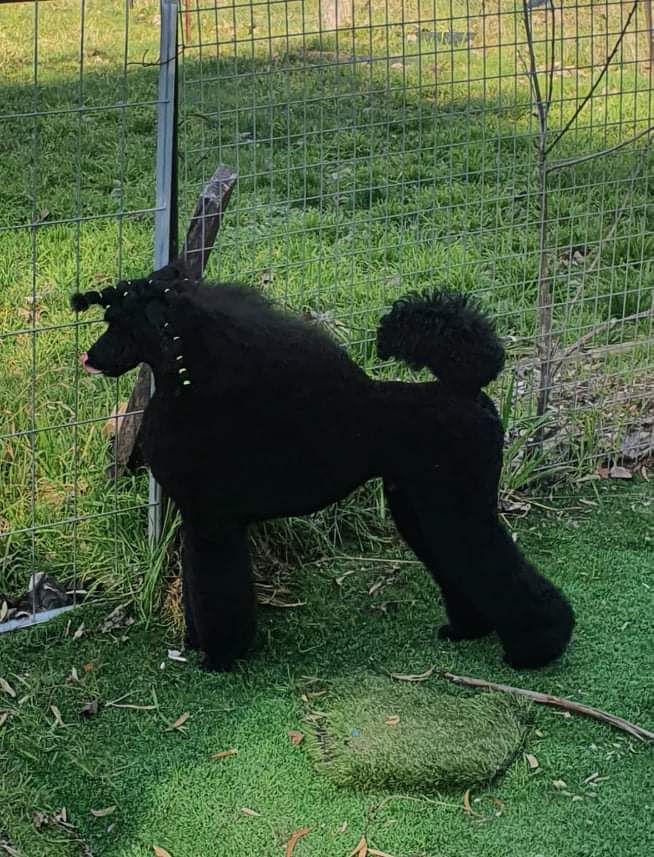 Contact Details
Tom Mangan
Woy Woy, NSW, Australia
Phone : 0419620160
Email :
[email protected]