My Judging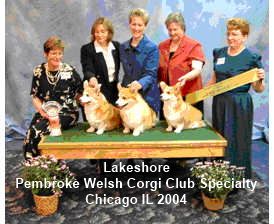 In April 1988 I fulfilled my ambition to judge the Welsh Corgi Pembroke & Cardigan breeds and this judging status extended to the full Working Dog Group (Herding/Pastoral) in 1996.

Since becoming more involved with judging, my judge's license status grow over 25 years to the status of All Breeds in March 2013.

Over those years I have judged at all-breed shows many times in most states of Australia and New Zealand but of course, judging Pembrokes is the one most dearest to my heart.

My biggest thrilled was to have had the honour and pleasure of judging Welsh Corgi Specialties show in Australia, New Zealand, USA,(6 times) Canada, England, & Russia, including judging bitch classes at the PWCCA National in 1996 and West of England Assoc in 2000. The pinnacle was my acceptance into the PWCCA membership in 2003.


Two years later I had the pleasure to judge the Pembroke Welsh Club of Canada National in Montreal in May 2008. (Photograph - my BOB & BOS winners). In September I judged Toys, Gundogs, Working and Hounds in Christchurch NZ for the Malvern Kennel Club.


Since then, I have judged all breeds, Australia, New Zealand, Norway, England, Norway, Finland, Denmark, Japan & China and well as attending a number of European World Dog Show and World Dog Shows over the past 25 years.

My judging adventure has most certainly given me a great deal of knowledge when it comes to breeding and judging. Bob has accompanied me on several of my overseas assignments, instead of being left home to house sit and what wonderful adventures they have been. We have meet and made so many wonderful friends throughout the world, thanks to our dear little four legged companions.
Contact Details
Robert & Valerie Hutton
Romsey, VIC, Australia
Phone : 0404414873
Email :
[email protected]