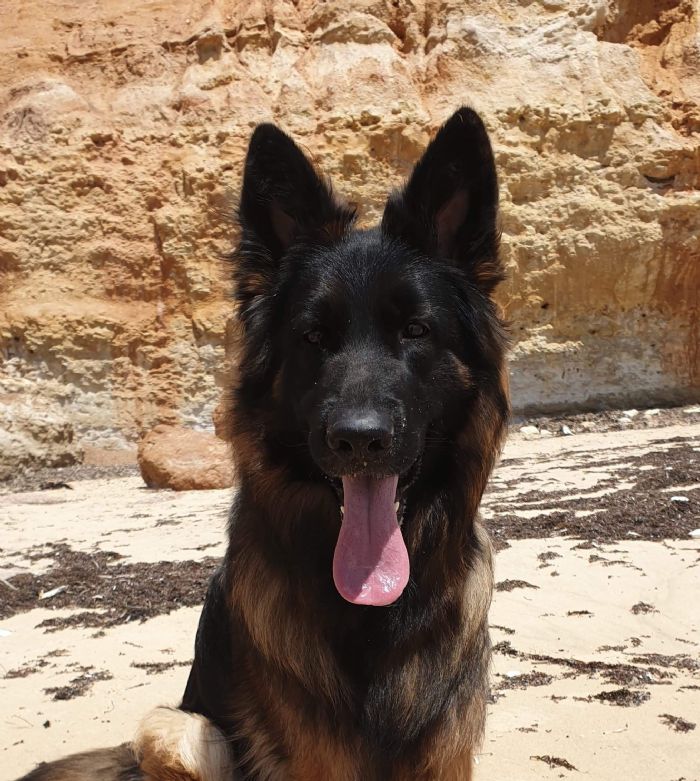 ***All our breeding females have undergone genetic testing for diseases, traits and are DNA profiled. THis is to ensure that when making a decision on who to mate our females to we have the knowledge to ensure no puppies that we produce will be affected/positive for any testable genetic disease. An example of a disease we test for is Degenerative Myelopathy. Please read our health testing tab for further information***
Welcome to Eroica Kennels. We are a boutique breeder that exhibits and breeds Long Stock Coat German Shepherd Dogs. We have been involved in exhibiting this beautiful breed since 2012 which was when Long Stock Coats were accepted in to the German Shepherd Dog standard.
Eroica Kennels is made up of Mum Cristel and Daughters Kim and Kelly. Our family has always had German Shepherd Long Stock Coat dogs so it was only natural to start showing and breeding them once they become a recognised variety.
The two foundation females of our Kennel are Ch Narathor Jazz Diva (Millie) and Ch Vladimir Glam I Am (Daisy), both extremely well bred animals who have been very successful in the show ring. They have both produced beautiful puppies for the show ring as well as for loving family homes. Any puppy you purchase from us will have either or both of these females in their pedigree. We thank the breeders of these girls for the opportunity to start our kennel with their lines.
We are very selective of the dogs that we breed; our pairings are very thought out ensuring that TYPE, health and character are at the forefront of our decision. We don't have litters to sell puppies, we have litters as we would like something ourselves. All puppies that we do not keep are sold to loving family and show homes. We are very selective on who we sell our puppies to and each person needs to go through an application process. We have a waitlist so if you are interested in a show or pet puppy it is always best to contact us sooner rather than later to ensure you do not miss out.
We have 6 dogs that we have bred standing at stud in SA, Vic & Qld and 1 Short coat imported from NZ. These males are available for natural matings and will also provide semen to be sent out of state. We also import semen from overseas and currently have a few breedings for sale to other breeders of the top producing males. Pedro is the only LSC male to produce a VA Female and Male.
We have been very fortunate to have success in the show ring from the limited litters we have had. Please view our website for further information on our dogs accomplishments.
Our dogs are part of our family and we expect the same when you purchase one of ours.
Please read our f.a.q before contacting us.
Please view our website and if you have any questions or are interested in purchasing a puppy from us please phone or email us as we will not reply to sms. We are on facebook and Instagram.
We are Members of Dogs SA and the German Shepherd Dog Club of SA (GSDCSA)
Contact Details
Kim Leonard
Adelaide, SA, Australia
Phone : 0438878446
Email :
[email protected]
107070 Visitors