Show Results and Critiques
Sub-links for this page
** SHETLAND SHEEPDOG CLUB QLD CH SHOW 22 SEPTEMBER 2018. **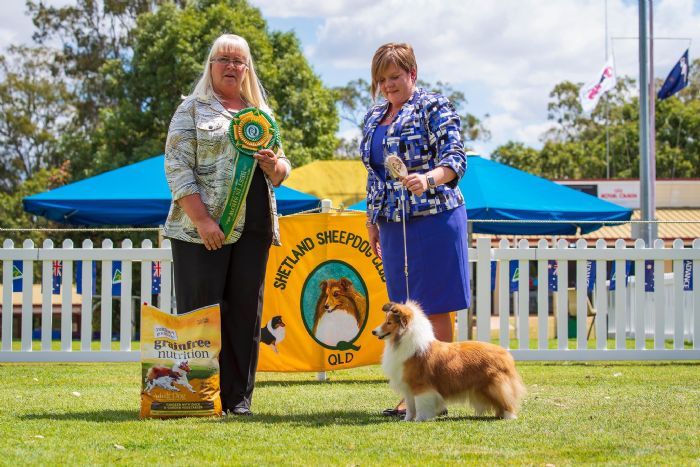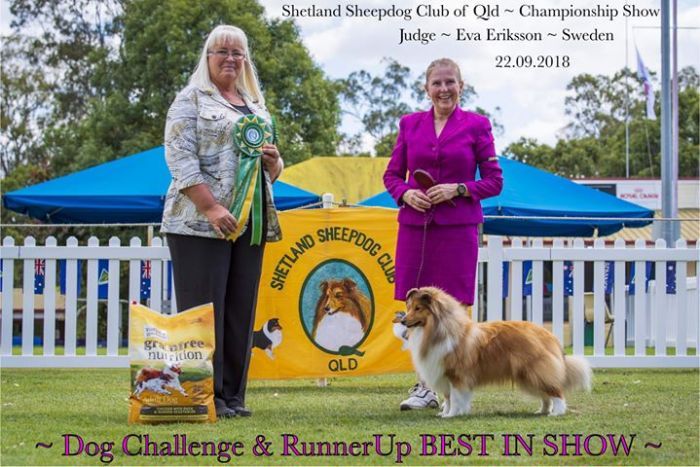 BEST IN SHOW RUNNER UP BEST IN SHOW
SUP CH HARTLEY SHINE ON ME
CH GAVEND C MY ILLUSION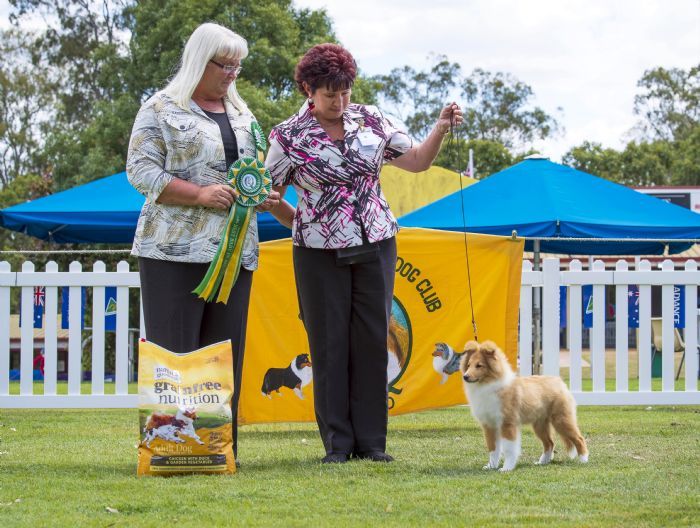 BABY IN SHOW - SHATRIN PRAISE BE


I had the pleasure to judge at the Shetland Sheepdog Club in Queensland 22 September
2018! I have been looking forward to this trip for such a long time and I had no idea what
quality to expect. I was not disappointed! The general quality was very high and I was very
thrilled over my winners. I would love to bring them home! I am sure many of my class
winners have done or will do very good in breeding. We also stayed in Australia for my
holiday and we had a great time at the east coast for a month.
I was pleased over the high entry of 61.

My super ring stewards Terry and Margaret guided me through the day very safely.
It was an excellent permanent showground and lovely prizes to all winners.

Baby Puppy Dog

1. Limkins - Shatrin Praise Be
He had such a lovely head and expression, lovely neck, well matured body and bone, moved
very well, , nice coat and very well presented and such a nice showboy.
Very pleased to award him
BEST BABY PUPY IN SHOW.

2. Murdoch/Pearson - Hartly The Jewel Thief
A lovely boy with beautiful outline and general look, nice head, slightly too much stop and
scull could be flatter, well matured body and bone with nice movements.

3. Turners/Glasheens - Kataku Fantasize IFU Dare
Also a boy with lovely shape, slightly too strong in bone for me, promising coat, very well presented.

Puppy Dog

1. Tresidders - Kelanmee Timeless Classic
Very well matured golden sable boy excellent shape, slight long muzzle, could have flatter scull,
excellent neck with a lovely silhouette, excellent movements well presented beautiful coat, excellent shown.
PUPPY IN SHOW

2. Pearsons - Hartly Keep Commenting
Excellent shape, slightly strong in scull but nice expression, excellent neck, body and bone,
moved very well and well presented.

3. Gordons - Maliddie Jumping Jack Flash
Nice blue coloured boy, slightly weak under jaw and would prefer a better stop, excellent neck,
body and bone and free movements.

Junior Dog

1. Klempels - Charmhill Callin The Shots
An eye catching male of excellent type. Excellent shape with beautiful neck and topline, body,
bone and angulations with strong hocks. Slightly wide ear setting would prefer slightly better
marked stop, covered the ground easily, well presented and beautiful coat.

2. Spangler/Jefferys - Ambermoon Boys Will Be Boys
Lovely head and expression, good ears and dark well shaped eyes, excellent body and bone, rich colored sable with a lovely coat, slightly high tailset, moved well.

3. Begnells Tiakina - Truly Madly Deeply
Nice boy needs to improve quality of head, not parallel and needed a stronger under jaw, good earsetting, excellent neck, body and bone, moved well, blue color could be brighter, well presented.

Intermediate Dog

1. Carrols - Ch Gavend C My Illusion
Took my eye immediately. Such a shape and with a lovely outgoing and showy temperament.
Excellent shape, balanced head but slightly strong in scull but flat and had lovely expression with
sweet eyes, excellent reach of neck, body and bone, well angulated with lovely strong hocks,
excellent coat and presentation, effortless movements and flew around the ring in sheltie style.
Pleased to later award him the
DCC, RUBOB, RUNNER UP IN SHOW AND INTERMEDIATE IN SHOW.

2. Limkins - Shatrin Secret Saint
A boy with excellent shape, lovely expression, would prefer a longer neck, good body and bone,
nice angulation, well presented huge coat, well shown and very nice movements.

3. Hugos - Ronashill Blue Tycoon
A beautiful blue coloured boy with lovely head and expression, excellent body and bone, upper arm could be slightly better angulated in to shoulder, nice angulations in rear, lovely coat, good movement from side, shown
very well.

Australian Bred Dog

1. Murdoch/Pearsons - Ch Hartly Deep Impact
Lovely shape of this boy with excellent expression, lovely neck, excellent body and bone,
moved very well and well presented and shown.
AUSTRALIAN BRED IN SHOW

2. Schwier/Lines - Ch Shelkeys Limited Edition
Excellent shape, would prefer a flatter scull, excellent neck, body and bone, nice angulated,
excellent movement, well presented and shown.

3. Bradshaws - Ch Shelshaws Million Dollar Man
Nice shape, head needs to improve in balance and expression, nice neck, excellent body and bone, good angulation, slightly high tail when moving and in my opinion too much coat,
slightly heavy movement. Showed well.

Open Dog

1. Pearsons - Hartly How About That
A stunning boy who took my eyes when he entered the ring. Excellent shape and type,
beautiful expression, just wish slightly more flat in scull, excellent neck and topline, good body and
bone, super mover and presented in the best way. Was a very strong contender for dog CC and
I was pleased to award him
RESERVE DCC AND OPEN IN SHOW

2. Spanglers - Ch Shelsian Lasseter
A rich golden sable boy with excellent shape, nice head but slightly heavy ears, lovely neck,
excellent body and bone and angulation, beautiful presentation and a good mover.

3. Eames - Ch Inneslake Outrageous Fortune
A very nice shaded sable boy, slightly long in head and needs a flatter scull over eyes, beautiful neck,
excellent body and bone stunning movements like a true shepherd, well presented coat.

Veteran Dog

1. Gordons - Gr Ch Raynora Stylish Oak
A 9 year young male in excellent condition, shaded sable colored, slightly strong in head but
nice expression, excellent neck, body and bone, tailset slightly high, moved well and very nice presented.

Neuter Dog
1. Begnells - Sup Ch Lyndreams Strictly Speaking
A masculine dog with slightly strong scull, excellent neck, body and bone, good angulations, and a
good mover, well presented coat.

Baby Puppy Bitch

1. Pearsons - Hartly Jewel Of Choice
Feminine girl with lovely expression, ears on top, beautiful neck, very good body and bone, slightly
steep in croup, nice angulations and a good mover, well presented.

2. Limkins - Shatrin Stolen Angel
Lovely shape, slightly strong in scull and would prefer a better stop, excellent ears, body and bone,
nice angulations with good movement, promising coat.

Minor Puppy Bitch

1. Sharndahs - Sharndah Follow UR Dreams
Lovely head, slightly big eyes,, nice neck, excellent body and bone, elegant shape, nice angulations,
moves very well, nice color and coat.
MINOR IN SHOW

Puppy Bitch

1. Spanglers - Shelsian Stylish Accent
A shaded sable girl with excellent shape, nice head but prefer a flatter scull over eyes, well matured
girl with nice neck, body, bone and angulations, moved very well and well presented and shown.

2. Browns - Gavend Touch Ov Elegance
Feminine girl with a very nice head and expression, nice neck, very good body and bone but
need more time to mature in front, slightly high hocks, very nice movements, well presented.

Junior Bitch

1. Pearsons - Juzvee Serendipity At Hartly
Eyecatching girl with excellent shape, lovely head, excellent neck, well matured body and bone, nice
angulation, beautiful coat and presentation, a true mover from all sides.
JUNIOR IN SHOW

2. Bradshaws - Ch Shelshaw Sweet N Sassy
Very nice female with slightly strong head, very nice shape, body and bone, moved well, well presented coat.

3. Wrights - Rawuch Angels Blue Skye
A nice blue girl with beautiful colour, sweet expression, would prefer better neck, excellent body
and bone, nice angulations in rear, upper arm could be better angulated in to shoulder, slightly
uncomfortable in the ring and the handler presented her in the best way, moved very well.

Intermediate Bitch

1. Pearsons - Hartly How Devine
Lovely girl with excellent shape, slightly strong in head
but nice expression, beautiful neck, good body, bone and angulation, moves very
well, lovely well presented coat. She shines in the ring with her natural showmanship.

2. Begnells - Brachelle Do U C What I C
Nice colored blue girl with feminine shape, nice
head and expression, slight narrow in front, excellent body and bone, nice angulated,
well presented. Needs to improve, slightly high over eyes and scull needs to be
flatter, excellent neck, body and bone, well angulated, a true mover, well presented
and nice coat.

3. Lines - Ch Kilcoy Me Myself N I
Very nice tricoloured girl wth exc shape, would like to see a flatter scull and over eyes for better
balance in head, exc neck, body and bone, well angulated, moved well, well presented and shown

Australian Bred Bitch

1. Hickey/Watsons - Ch Tiakina Thats For Me To Know
Excellent blue coloured girl of excellent shape, beautiful head and expression, slightly big eyes,
very good neck, good body and bone, well angulated and moves very well, beautifully presented.

2. Limkins - Ch Gavend Part Time Angel
Today a rather naked angel but of high quality all over, excellent head and expression, good neck,
body and bone, so well constructed and showed that in her super movements. Just had to place
this sound girl, sad about the coat but it will come back!

3. 3 Begnells - Peerielee Colours Of The Wind
A slightly strong bitch with a lovely head and expression, enough neck, excellent body and bone,
good coat and presentation, slightly heavy movements.

Open Bitch

1. Hugos - Ch Sunland Scotch N Soda
A girl with excellent shape and beautiful head and expression, lovely neck, body and bone, wonderful movements, well presented and shown.

2. Addisons - Sup Ch Gavend Whispers OV Gold
Very similar quality to the winner but would like to see a flatter scull which would give her less strong
scull, excellent neck, body and bone, well angulated, excellent movement and well presented and shown.

3. Tresidders - Ch Kelanmee Treasured Timepiece
Lovely girl with excellent shape, would like to see more parallell lines nose/scull for better
balance in head, excellent neck, body and bone, lovely movements well presented coat and well shown.

Veteran Bitch

1. Pearsons - Sup Ch Hartly Shine On Me
And yes how the sun was shining on her! Seven years young bitch with stunning shape, her sweet
eyes and expression blow me away, excellent shape and size with lovely neck, excellent body
and bone, covered the ground easily, super coat condition and presented to perfection. So well
balanced in all ways and a worthy winner, so pleased to award her
BITCH CC, BOB AND BEST IN SHOW, VETERAN IN SHOW

2. Tresidders - Sup Ch Kelanmee Autumn Aria
Also a stunning bitch, eleven years old in super condition, just slightly strong in head for me,
nice expression, excellent body and bone, well angulated and excellent movement, well presented and shown.

Neuter Bitch

1. Lines Gr/Neutr - Gr Ch Amberwood Summer Fantasy
A bitch with a feminine head, sweet expression, enough neck, excellent body and bone,
well presentedand shown, moves well.
NEUTER IN SHOW

2. Farlows - Tesskatel Missy Higgins
A girl with nice shape, slightly strong head, excellent body and bone, nice coat and presentation, moves well. Reserve Neuter In Show

3. Frenchs - Learick Amazing Grace
A tricoloured girl with nice head, slightly big eyes, shoulder could be more angulated, good body and bone, moved well.

My last words will be that you have high quality of the breed here in East Australia and I felt
very honored to hear that some had come from far away to show under me, thank you so
much. The only thing I would think of when breeding is to improve the head. Too many were
not flat enough in scull or over the eyes. That spoils the expression. The construction, bone,
movements and coats you have, just needs to perfect the shape of scull.
Keep up your good work!

Thank you again, and hope to meet you somewhere again!
Eva Eriksson
Links to Results from SSCQ Inc Championship shows from 1975 - 2009
http://webs.dogs.net.au/sscofnsw/uploads/documents/SSC%20of%20Qld%20Show%20Results.pdf
---