9th National Show- Brisbane
9th National Show Brisbane Australia

Critique by Margaret Lambert – Blenmerrow Shetland Sheepdogs
BCC & Best In Show - Ch Arajento Debutante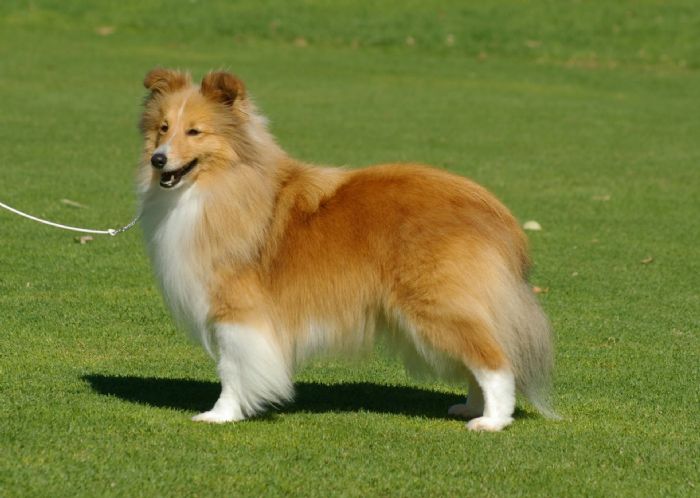 DCC & Runner Up Best In Show - Shatrin Saints B Praised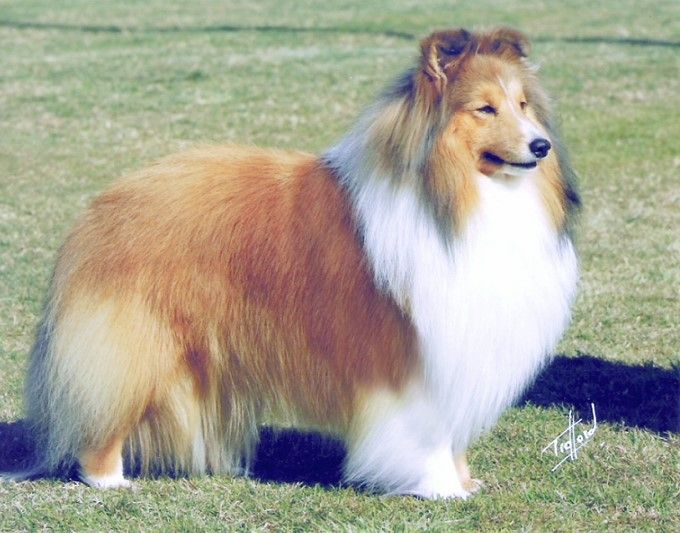 Class 1A Baby Puppy Bitch (5)

1. Franklin's BONAUSTELL PUNK ROCK
A very nice, well balance puppy with the correct amount of substance for her age. Correct head type with the stop in the right place. A nice flat skull and well rounded muzzle with a very sweet eye and expression. Moved out really well for one so young with good reach in front and drive from behind achieved by her good construction. Lovely reach of neck and bend of stifle. Nice top line and well set tail. A very promising baby.
2. Spangler's SHELSIAN SUTHN BELLE
Another very nice little puppy with sweet head and expression. Correct eye shape and placement. Lovely straight front legs and moved well coming towards you. Good turn of stifle and well set tail. Nicely balance throughout. A very professional little girl.
3. Kennedy & Hatzikiriakos HATZTOO HOT ON THE RUNWAY
Quite a little character. A nice little puppy, good size for her age and a nice breed type although not quite
the angulation of the other two. Very sweet head and expression and certainly full of herself.
4. Brown's LIZNEB SWEET ABOUT ME
A rich golden sable very well trained and stood very well. Again a nice type of Sheltie with a good shape, nice reach of neck and well turned stifle. Sweet, well placed eye and neatly placed ears.

Class 2A Minor Bitch (13)

1. Watson's TIAKINA TRI TO HAVE SOME FUN
Tri coloured bitch with a clean, lean head, nicely placed eye, flat skull, lovely ears and neck. Well balanced throughout with level top line and well set tail.
2. Murdoch's DONRIVER DA BEEZ NEEZ
Mature rich sable bitch again with a nice outline. Good reach of neck and proudly carried head with nicely placed eye, correct stop and neat ears.
3. Long & Dryburgh's PEERIELEE FROST SO SOFT.
Pretty blue with glamorous white markings and rich tan. Lovely size and shape. Sweet head and expression, would have preferred slightly neater ears.
4. Young's CHERALAY SWEET ABOUT ME
Slightly heavier in type but a nice shape and well balanced. Good reach of neck, nice spring of rib and depth of chest. Decently constructed and moved accordingly. Needs to clean in stop and ears were a bit erratic today.
5. Pfeiffer's MALLARABA MUSICAL RHAPSODY
Glamorous young lady nice size and substance. Good outline and moved and behaved very well. Sweet well placed eye giving desired expression
Class 3A Puppy Bitch (14)

1. Saltau & Powell's SHELBRONZE DESERT SUN
Beautifully balanced young lady with bags of quality and true breed type. Lovely size and substance with good reach of neck, nice angulation front and rear. Level topline and nicely carried tail. Moved out with style. Nicely moulded head with no exaggeration. Flat skull, neat ears and well placed and shaped eye together created a lovely sweet and feminine expression. Should have a bright future. Very close decision for Best Puppy in show but her femininity won the day.
2. Rowden's ELECTRO LITTLE TREASURE
Pretty tri bitch whose coat gleamed in the sunshine. Again well balanced with good bone for size. Lovely in outline and type. Particularly lovely qualities in her head pattern with neat ears and well set eye giving very sweet expression. Just preferred the front angualation on 1 which gave her the better reach on the move.
3. Anderson & Davies' XANTHORRHOEA GLAMOUR
Glamorous and eye catching young lady as her name suggests. Correct for size and nicely balanced throughout. Clean head pattern with well placed ears. Needs to mature in front movement then will trouble the best.
4. Wylie's HILLSWICK HE'S MY DADDY
Glamorous young tri bitch, good size and substance. Quite mature in outlook. Nice level top line, well bent stifle. Well let down hocks and good legs and feet. Nicely balance throughout and moved very well.
5. French's LEARICK HOT TOFFEE
This bitch is still rather immature but has a nice breed type. Clean head, ears could be neater but she showed nicely. Needs to settle all round.

Class 4A Junior Bitch (22)

1. Greenlea's SUNLAND SECRET ADMIRER
Was immediately drawn towards this pretty tri bitch who I believe has all the attributes to mature into a first class adult and may have many secret admirers in future. Lovely breed type, correct size and perfectly balanced throughout. In profile has a stunning outline from her pretty head with correct level planes, just the right amount of stop, neatly placed and well used ears. Lovely reach of neck, level top line, pretty sweep over loin and nicely carried tail. Her head is beautifully moulded and her eye, dark and a lovely shape gives her a sweet, feminine yet merry expression. She has good angulation front and rear allowing her legs to be in the correct position under her and with her correct height to length ratio, this allowed her to flow freely and effortlessly around the ring. Her young handler has much to be excited about and I am sure she has a great future in the show ring. I would happily have taken her home. Best Junior in show.
2. Watson's TAIKINA THE END OF THE ROAD
I see this pretty blue bitch is half sister to the class winner and many of the above comments apply. Perhaps a little heavily marked but her blue is a beautiful clear colour. Lovely head type with very sweet expression. Nicely balanced throughout and moved as one would expect from a correctly constructed animal.
3. Tresidder's CH KELANMEE RED POPPY
Glamorous sable bitch with perfect markings, eye catching not only for this but for her obvious quality. Lovely breed type, ultra feminine and perfectly balanced. I can see how she has gained her title at such a young age.
4. Hillacre Knls HILLACRE HAWAIIAN DANCER
Another glamorous young lady who again fits the standard for her size substance and sweetness. Lovely balance throughout, totally feminine and has all the attributes to carry her to the top.
5. Simpson's NIGHTWOOD I GOT BLING
Certainly no disgrace to be placed 5th is such a strong class and this bitch also has all the qualities for a bright future in the ring. Beaurifully balanced with a lovely outline, nice bend of stifle, sweetest of expressions and moved with style.
I felt this was one of the strongest classes of the day and was delighted to find such a depth of quality amongst these juniors. I am certain that the 5 finally selected could and probably will change places on many occasions in the future as all were all worthy of winning the class.

Class 5 A Intermediate Bitch (27)

1. VanDinter's SUNLAND SHE'S TALRD MADE
A lovely rich sable bitch in beautiful bloom. Correct size and substance with lovely straight front legs with just the right amount of bone. Neat feet, nice turn of stifle. Good proportions throughout with a good reach of neck and very pretty head with flat skull, level planes, correct stop, neat ears and sweet, well placed eye to give the desired expression. Moved with drive and purpose.
2. Hakvoort & McPherson's KAZZAHKI KOOKY SPOOKY
Another lovely bitch built on elegant lines. Beautiful clean head shape with neat well placed ears and sweet dark eye giving a melting expression. Lovely reach of neck and level top line. Moved with grace around the ring.
3. Cant's CH BEAUIDEAL JUS LIKE HEAVN JD
What a beautiful colour this pretty blue bitch is and in every way a lovely representative of the breed. Well balanced throughout, correct for size and substance and has a very pretty head and expression. Moved as one would expect from such a nicely constructed animal.
4. Bennet's TOORALIE TICKLE MY FANCY
Smart tri colour of deep shining black. Lovely outline with good reach of neck, nice length of body and sweep over loin adding to the elegance. Sweet head and expression with neat well used ears and lovely dark eye. A little unsettled today.
5. Tonkin's ARAJENTO RAISING ARAZONA
This bitch was lovely to go over and stood and showed her qualities beautifully but disappointed a little on the move today. Lovely classic body lines and sweet melting expression completed the picture.

Class 10 A Australian Bred Bitch (30)

1. Tonkin's CH ARAJENTO DEPUTANTE
What a credit to the breed I found this lovely girl to be. Totally feminine from the tip of her nose to the tip of her tail. Sweetest of expressions made up by the combination of her lovely well set dark almond eye and neatly carried ears. Head was correct in type with just the right amount of stop, nicely moulded foreface and clean back skull. Lovely reach of neck leading into well laid shoulder, level topline and pretty sweep over loin. Beautifully balanced throughout with correct amount of bone to compliment her perfect size. Straight front legs and neat feet and good length of upper arm. Well turned stifle and well let down in hock. Movement was true from every angle covering the ground with the minimum of effort and it was just his point that tipped the scales her way in the challenge for BIS. I felt she was a very worthy representative of the breed and I could not have been more delighted to award her the CC and Best in Show.
2. Tonkin's CH ARAJENTO I SHOT D SHERIF
What a joy it must be for this breeder to own two such lovely bitches and the above remarks can be related to this bitch also. I just felt that 1 had the edge in elegance and movement which was why this girl had to be content with the reserve CC today.
3. Berrill's CH SHELMANNA ZULU MOONBEAMS
Blue bitch who had loads of quality. Lovely shape, size and substance. Well constructed and moved with style. Lovely length of neck and proudly held, correct head with sweet merry expression and neat well placed ears which she used all the time. Quite heavily marked on one side which I would normally penalise harder but her overall quality outweighed this in today's competition.
4. Bolwell's CH DAYDREAM CLOUDY PATCHES
Interesting to see that 3 and 4 were by the same sire and many of the remarks apply. This one again had rather dark patches but lovely rich tan. Quality bitch who had wonderful movement really striding out with good drive from behind. Sweet head and expression completed the picture.
5. Saltau & Powell's CH NIGMA CHABLIS
Pretty sable bitch with dreamy expression, neat ears, good reach of neck and well angulated front and rear and lovely free movement made up the last of five, first class bitches.

Class 11A Open Bitch (18)

1. Limkin's EASTONIA EYE CANDY
Beautiful bitch who had everything I was looking for. Perfect size and balance throughout. Lovely front and rear angulation. Good reach of neck and level topline flowing into pretty croup and well carried long tail. Nice bend of stifle and well let down in hock. Very sweet expression and neat ears with correct clean wedge head. Moved with purpose and grace. A little apprehensive at times but did enough for me to give her the class.
2. Berrill's CR CH SHELMANNA OUT OTH BLUE
This Blue bitch was 10 years old and in amazing condition and carrying an abudance of beautifully broken and coloured coat. She pulled out all the stops to win this place and never put a foot wrong. Lovely breed type with beautiful elegant lines. Good reach of neck, lovely croup, well bent stifle, nice front angulation and moved like a two year old. Very sweet head and expression. A credit to her owner.
3. Luxford's CH AMBERMOON ALL FIRED UP
Very pretty sable bitch who showed to perfection. Lovely breed type, decently made and moved nicely. Sweetest of expressions just spoiled today by a weeping eye.
4. Docksay & Royston's GR CH BEAUIDEAL ROCK MY WORLD
This little girl caught my eye each time I looked her way. Glamorous and such a super show girl she could not be overlooked for her true feminine Sheltie qualities. Lovely head type with neat little ears which she used non stop. Nicely constructed and moved accordingly
5. Hillacre Knls CH HILLACRE PARDON MY PAST
Lovely bitch well balanced with nice bone for size. Sweet head and expression and neat ears. Lovely outline, particularly nice topline and croup and moved decently although a little fond of her tail at times.
On looking around the ring when my class winners came in for the challenge I found that they were all of a similar type with good construction, each one having the ability to move freely and with good drive and extension. They all had a lovely balanced outline with good reach of neck and correct head qualities and sweet feminine expressions. Each was beautifully presented and a credit to their owners.


Dogs

Baby Puppy Dog (7)

1. Spangler's Shelsian Stars N Stripes
This little sable dog had bags of charm and was quite a little character. Lovely size, balance and substance he held himself really well showing off his nice outline. On the move he had presence and drive, covering the ground well for one so young. Nicely moulded head and sweet well placed eye. Best baby puppy in Show
2. O'Meara's Wilsonia Wired for Sound
Many of the above remarks would relate to this puppy too. Not quite as strong in front movement but a very promising youngster with lovely sweet expression.
3. Fox's Shelmanna Hitchhiker
Sweet sable boy, nice for size, lovely reach of neck which he really used to advantage as he held himself very well for a baby. Lovely shaped and well set eyes and neat ears completed the picture.
4. Hales' Katanda Expect the Unexpected
Bright golden sable with white markings added to the eye catching appeal of this youngster, maybe a shade larger and more mature looking than those in front of him, a little more neck would have enhanced his outline. Nice front legs well under his body and sweet head and expression.
5. Tresidder's Kelanmee Richly Decked
Glamorous young man with large white collar. Full of character and charm. Would have preferred as little more refinement in head but at this age there is so much to develop. Nicely placed eye and neat ears. Good shape and balance.

Minor Puppy Dog (12)

1. Scott & Dryburgh's Peerielee Midnyte Oasis
Handsome young tri dog, well balanced throughout with good outline, nice bone for size, good reach of neck, level topline and nice bend of stifle. Lovely rich tan markings framed his nicely rounded foreface and lovely dark well placed eye. Clean flat skull topped by neat ears which he used well. Best minor puppy in show.
2. Hugo's Almaroy Royal Scot
Flashy golden sable of nice breed type. Clean wedge shaped head with flat skull and nicely placed eye. Not quite the angulation of 1 but had a good reach of neck and nice topline and croup. Needs more coat to complete the picture.
3. Murdoch's Donriver D Antz Pantz
This young man looked the baby of the line up and I see from the catalogue he was the youngest. Nice for size with an attractive shape he still has some developing to do. Sweet head and expression I am sure his owner will have some fun with him as he matures.
4. Tonkin's Arajento Social Standing
Glamorous young man with full white markings. He has a good reach of neck. Needs to relax when standing and on the move to make the most of his outline. Nice substance for his ideal size.
5. Pfeiffer's Mallaraba Mcenroe Chalk Dust
Similar remarks apply to this young man. Nice clean head with correct stop and neat well carried ears. Did not make the most of himself today.

Puppy Dog (9)

1. Thurling's Thurrana Topman
I was attracted to this young dog as he entered the ring and was not disappointed when I went over him. Well constructed and balanced throughout with good length of upper arm and well laid shoulder and good depth of chest. Nice turn of stifle, good reach of neck and level topline and well set tail. Clean wedge head with no exaggeration, flat skull, nicely placed almond eye giving sweet, yet masculine expression. Coming into nice coat he created a very appealing picture. Only just lost out to the lovely bitch for best puppy in show by a whisker but I am sure will have an exciting future.
2. Hatzikiriako's Hatstoo Hoos Hot N Syndey
Very mature glamorous young dog, beautifully presented and in lovely coat and condition. Unlucky to come up against 1 as it was a very close decision between the two. Nicely proportioned this dog has a lot of quality and I am sure will trouble the best in the future.
3. Tonkin's Arajento Imma Believer
This dog won his place here for his sound breed type. Correct for size and substance he had a nice body shape and in particular I liked his height to length proportions and hind quarters. Nice clean wedge head with neat ears and well placed dark eye.
4. French's Learick Liquorice All sorts
Gleaming black tri dog with rich tan markings has a lot of quality. Lovely body shape, nicely angulated and moved with purpose. Clean wedge head topped by neat ears. Not quite the sweet expression I was looking for but in a tri it can be hard to achieve. This did not detract from his other sound qualities.
5. Harrison's Anscot Rambling Spirit
This young dog was a little apprehensive and so did not make the most of himself today. However I felt he was a good breed type, nice for size and balance and when he did relax he had a good shape and held himself well. Clean head needs to fill in foreface. Would have preferred a little more defined stop but this can come with maturity. Nicely placed dark eye and neat ears.

Junior Dog (13)

1. Tonkin's Arajento The Socialite
Glamourous young dog who won this class for his lovely breed type, soundness and movement. Lovely to go over he has good front and rear angulation which could be seen as he moved so freely covering the ground really well with little effort. Lovely reach of neck and level topline with attractive sweep over loin. Clean elegant head, perhaps a little deep in stop but nicely moulded foreface and level planes. Dark well placed eye and neat ears created a very sweet yet masculine expression.
2. Saltau & Powell's Shelbronze Scausen Astorm
Well proportioned dog beautifully balanced throughout. Maybe a size bigger than the others placed. Lovely head type and sweet well place eye with classic Sheltie expression. Good reach of neck, level topline .Nice construction and moved out with style.
3. Prentice's Lyndram To Be A Magician
Beautifully balanced young dog with no exaggeration. Good length to height ratio, nice reach of neck, level top line and good bend of stifle. Sweet head with level planes and nice eye and well placed ears. A little erratic on the move today which cost him a higher place.
4. Lapworth's Rawuch Fyour Eyes Only
Young blue dog well broken in markings with nice blue colour overall. A lot to like about this young man from his elegant shape, lovely reach of neck and sweep over loin. Nice head type with sweet expression, ears could be a shade neater but did not detract.
5. Leverington's Nightwood Did I Do That
Glamorous sable of good breed type. Nicely constructed throughout with elegant lines. Nice head type sweet expression and well placed ears. Just needs time to coat up and mature generally.

Intermediate Dog (20)

1. Limkin's Shatrin Saints B Praised
As I looked around this class I was immediately struck by this lovely dog whose quality could not be denied. On handling him I was not disappointed. Lovely size and substance, masculine and yet not overdone in any way. Lovely moulded head with correct stop, flat skull, beautifully placed and shaped dark eye and neatly carried ears gave him the most exquisite, yet merry expression. Head held proudly on good reach of neck, correctly constructed throughout and every part in perfect balance. He moved around the ring with style and grace covering the ground with very little effort. Immaculately presented in beautiful coat and condition, a very worthy CC winner. When it came to best in show I really did not want to choose between him and the bitch as they were both such beautiful Shelties.
2. Hakvoort & McPhersn's Tolltoonie Work Ov Art
Beautifully presented Blue dog in lovely condition. Good breed type with sound overall construction and movement. Just the right amount of substance for his size. Clean head with correct stop and well place dark eye giving correct expression. Nicely moulded foreface. Unlucky to meet the class winner today.
3. Tonkin's Arajento Spellbinder
Smart tri of lovely breed type and very elegant in shape. Lovely balanced head with good expression. Proudly held on good reach of neck with level topline and nicely angulated rear quarters. Just could not match the movement of the dogs placed ahead of him today.
4. Luxford's Ambermoon Follow The sun
Glamorous young sable dog in good company in this line up. Not quite the maturity of the others and needs more coat to complete the picture but could not be denied his quality and breed type.
5. Leverington & Stanton's Ch Lurkeen Cort Be N Norti
Very glamourous and beautifully presented mature young man. Correct breed type with lovely balance and outline. Good reach of neck and lovely sweep over loin. Moved with style. Sweet Sheltie expression and very attentive showman.

Australian Bred Dog (25)

1. Limkin's A/NZ Ch Anscot The Rambler
Beautiful sable dog, completely balanced throughout with just the right amount of substance for his perfect size. Lovely front legs. Good shoulder angulation, depth of chest, bend of stifle with well let down hock. Correct head type with nicely moulded foreface, correct stop, sweet eye and neatly carried ears completed the picture. Moved out well with good reach and drive.
2. Tonkin's Gr Ch Arajento Calico Kid
Shaded sable dog and many of the above comments apply. Well balanced, good size and substance lovely outline and beautifully presented. Correct head type, to be critical would have prefered a slightly darker eye.
3. Belak's Gr Ch Brashelle Whos Talkn Now
Very smart tri who had all the attributes required to fulfil the standard. Lovely for size and substance, very elegant body lines, good reach of neck, level top line and sweep over loin. Clean well moulded head, sweet dark eye and neat ears completed the picture.
4. Tresidder's Ch Kelanmee Top Deck
Rich red sable, again correct for size substance and breed type. Not quite the front angulation of those above him which was evident in his extension on the move but very worthy of his place today.
5. Rusden's Ch Nedsur All Eyes On Me
Rich, glamorous shaded dog of correct breed type. Beautifully presented in lovely condition. Just the right amount of bone for his size. Lovely outline with good reach of neck and particularly nice bend of stifle and let down hock. Well carried tail. Correct expression and neat, well carried ears.

Open Dog (17)

1. Gaskell's Gr Ch Annaglen Stormy Sky
Beautiful blue merle who caught my attention from the start. Presented in beautiful condition. As I watched him move around the ring at the start of the class I felt sure I would not be disappointed on
handling him. He moved so freely and effortlessly and his true construction was confirmed. Lovely size, balance and substance, a true working type. Well angulated front and rear with his front legs well under his body, good depth of chest, reach of neck and level topline. Beautiful croup and tail set and well bent stifle and let down hock. His head is typical with just the right amount of fullness, clean wedge with no coarseness, correct stop well placed and shaped eye and neat well carried ears giving a truly melting expression. His beautiful blue colour is enhanced by the rich tan and profuse white collar and bib. It was a very close decision for the CC and I had no hesitation in awarding him the Res CC.
2. Watson's Ch Tiakina Tailord By Armani
This dog also made a big impression and pressed hard for the first place. Although in beautiful bloom he just lacked the finish of 1. Soundly constructed throughout with true Sheltie type he had all the attributes I was looking for in a top quality dog. Particularly impressed with his beautiful head, eye and perfectly placed and used ears.
3. Davies' Cr Ch Hillswick Astorm Brewing
Rich sable dog, again high in quality and breed type. Liked his well moulded clean head with correct stop and nicely placed dark eye giving true sheltie expression. Lovely overall body shape and balance, possibly not in his best jacket today.
4. Croft's Gr Ch Deerod Rich Reward
Dark shaded sable with gleaming white collar, a colour not so often seen now in the UK but I find very attractive. Another nicely constructed dog who stood and showed and moved very well, Lovely head type again with the sweet expression so unique to our breed. Nicely placed and used ears.
5. Rowden's Gr Ch Electro Black Tie Affair
Immaculate tri dog with lovely rich tan markings. Certainly no disgrace to be placed 5th in this high quality class. Again the shape and make that the standard requires, elegant and yet workmanlike. Nice head type though perhaps a shade broader in skull. Lovely dark well placed eye and neat ears.


When my class winners came in for the challenge I was delighted by the uniformity of the dogs and the overall balance, shape and soundness. I felt each represented the breed well and deserved to be there.
I apologize for the time it has taken for me to get this report to you and thank you for your patience. My overall feeling is that the true British type Sheltie is in safe hands in Australia and I hope will continue to predominate over the stronger less typical specimens.

Margaret Lambert – Blenmerrow Shetland Sheepdogs