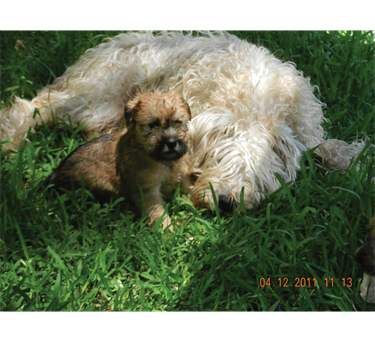 Welcome to Ardgaeithe Irish Soft Coated Wheaten Terriers
About Us:
We fell in love with the breed in 2000 when searching for a low allergy breed as I am highly allergic to dogs, yet love such as companions, having grown up with dogs(Afghans and rescue) and shown and competed with them as a child.
After much study and investigation since 2000 we chose our first wheaten Aoife and that was the beginning of a wonderful time with this terrific breed.
They have such character and loyalty and so intelligent. They are alert and enjoy playing or walking no matter what time of day and then nestle down by your feet until the next adventure.While not yappy , they are alert for unusual sounds so excellent watch dogs but not human aggressive as rule so less suitable as guard dogs. They come from farm stock, healthy Irish farm dogs, one of the original Dogs of Ireland and as such can do many tasks with good training including track/scent work , some herd, hunt vermin and can also enjoy competitive sports such as obedience, Rally and Agility.
We enjoy close contact wtih our dogs, they are part of our family life and live inside with us and playing with the children and their friends. We support basic training and enjoy weekly obedience classes at Hillsborough as well as Agility which Solveig particularly enjoys.Our dogs also compete in Conformity Championship shows includng the Sydney Royal Easter Show where so far in our short show lives we have gained Puppy of Breed and RuBOB.
We also participate in Club activities supporting and promoting the breed such as The Easter Show Breed Stand, DogsonShow as well as our Club social events like the famous Wheaten Walk and Annual Picnic and Barbeque Day.
Our Breeding of Wheatens began in 2009 and we are grateful to fellow breeders who were always willing to share their wisdoms and help with any problems and give valuable advice.Due to the communication opportunities that Facebook offers we have made international friends and enjoyed their stories and seeing their dogs . In 2014 we were able to visit some when we travelled to Europe and then on to Philadelphia(USA) for the Montgomery County Kennel Club terrier show and Hatboro show seeing hundreds of wheatens first hand and meeting the exhibitors and talking with them about their lovely dogs. We also saw the Obedience, RallyO, Agility and BarnHunt and thus further saw Wheatens competing so very successfully at the highest levels. We were able to make some very special friendships and hope to go back again in the near future.
In our breeding we prioritise Health, Temperament and Structure while ensuring to maintain correct coat.
The correct Irish coat is described as fine and silky wheaten colour with gentle wave and a slight golden hue and does indeed seem to be unique both in the way it matures and grows as a puppy when they tend to look like little ruffians with their harsh reddish coat and mischevous expressions to a luxuriant shiny silky coat which gradually becomes denser with years. I have also found that I am allergic to other types of coats so for me personally I appreciate the uniqueness of the coat and treasure it to preserve it in our breeding.
I hope you will enjoy meeting our dogs on these pages and come to consider Wheatens as the dog for you with which to share your life.
Most of our uptodate discussions and photos and videos are on our community breed page on Facebook
https://www.facebook.com/Ardgaeithe-Irish-Soft-Coated-Wheaten-Terriers-171372752931010/
You can also see our dogs on Dogsonline
https://www.dogzonline.com.au/breeds/member.asp?name=ARDGAEITHE
Or contact us via email
ardgaeithewheatens at yahoo.com.au
14262 Visitors