Welcome to my web page.
My DogsNSW Membership Number is 2000785090.
I am a financial Member for 2015/16 of the Poodle Club of NSW Inc
The white Poodle above is MAYA - Champion Unique She's Right on Time (Imp USA), bred by the famous Unique Standard Poodles of Pennsylvania USA.
At the Poodle Club of America (PCA) National Show in April 2014 I had the great pleasure and honour of watching Unique Standard Poodles win Select Bitch with Ch Unique Da Maya Dancing Queen (Marci). Marci's father is Ch Nanhalls Casanova Da Maya (a son of Ch Unique Royal Trademark). Marci's mother is Maya's mother Ch Unique Daughter of the King.
Unique Standard Poodles also won Winners Bitch over 120 standard bitch class entries with the 9 and a half month old Unique Pocketful of Sunshine (Darby), who is by Maya's sire Ch Afterglow Alberto out of Ch Unique Jewel of the Crown (Sparkle). Sparkle, like Maya, is another daughter of Ch Unique Daughter of the King.
Maya represents the next step in the continuation of the Manray family. Her sire is Am Ch Afterglow Alberto (Imp UK), who represents the combination of Del Zarzoso and Afterglow breeding. He has two lines to Torpaz It'll Be All White, the sire of Int Ch Topscore Contradiction (Best in Show Crufts and the World Dog Show) and UK & American Ch Afterglow The Big Tease (Best in Group and Runner-Up Best in Show, Crufts). Maya's mother is American Ch Unique Daughter of the King, who is a daughter of Ch Topscore Contradiction thus giving a third line to Torpaz It'll be All White, and a grand-daughter through her mother of Am Ch Lake Cove That's My Boy (Treson).
I am hugely grateful to Joan McFadden and Gail Wolaniuk of Unique Standard Poodles for trusting me with Maya.
I am a Member and registered breeder with the Royal NSW Canine Council (trading as Dogs NSW), which is an affiliate of the Australian National Kennel Council, the only national and internationally recognised registry of pedigreed dogs in Australia. I am a current financial Member of the Poodle Club of New South Wales.
Please see the Puppy page about Manray puppies past, present and future (when we know new pups are on the way). You can read about the Manray approach to Poodles at About Manray Poodles.
Maya enjoying life after her first successful venture into motherhood, taken in May 2014.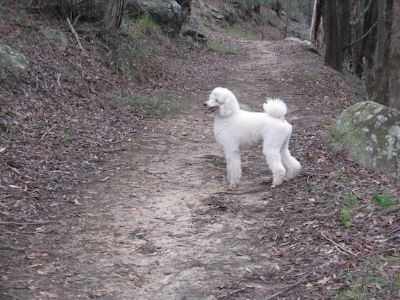 Two of Maya's October 2013 puppies sired by Manray Day Lewis: The black male Kobe at 6 months and the white female Blitzen at 7 months.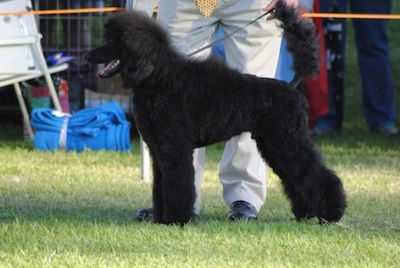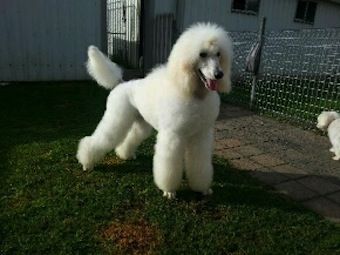 Contact Details
Tom Mangan
Woy Woy, NSW, Australia
Phone : 0419620160
Email :
[email protected]
00005039 Visitors