DIENAMIC GERMAN SHEPHERD DOGS
LITTER ANNOUNCEMENTS!!
PENDING LITTER ANNOUNCEMENT!!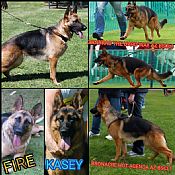 Dienamic German Shepherds are excited to announce we are expecting a litter due early October. The lucky parents are Zandrac The Hard Way AZ BSCL1 and Bronacre Hot AgendaAZ BSCL1
we are happy to take enquiries for potential forever homes.
Puppies will be available at 8 weeks to approved pet/show/obedience homes, puppies will be fully vet checked, microchipped, wormed, vaccinated, and a puppy pack. Please call, texts will not be replied to nor will emails unless we've previously spoken.

"A certificate has been obtained from my vet that states in their opinion, microchipping the pups before 6 weeks of age would significantly prejudice their health.
HOWEVER, IF WE CAN HELP YOU IN ANYWAY PLEASE FEEL FREE TO CONTACT US, WE ARE ALWAYS HERE FOR A CHAT!!